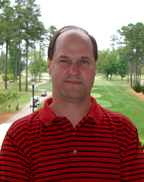 Some people just see the numbers – whether it's guessing the number of jelly beans in a jar or the cost of a bag of groceries at just a glance. Since he was a boy, Ron Holanek has been able to see the numbers – and his nearly two decades of work at NC State gave him the skills to turn this into a successful IT and risk management company.
Holanek is President and CEO of the Financial Risk Group, a Cary-based organization that provides unique risk solutions, project modeling and architecture, IT outsourcing, and implementation and training for SAS Risk software, among many other services. "We're kind of the glue that binds the IT and business departments together. Our consultants are not only strong technologists, they are domain experts in the areas of finance and risk management." Holanek says.
His love of learning and information began at an early age. "In high school, my focus was in mathematics," Holanek says. "I challenged myself by taking the most advanced math courses the high school had to offer." Holanek also enjoyed exploring mathematics and could calculate the approximate square root of any number faster than the students or teachers could write the number down. His trick, he says, involved memorizing many of the squares so he could quickly identify in his mind the two squares on either side of the number he was given, and approximate the answer.
His math teacher picked up on his talent, and encouraged him to expand his plans for college into the nascent field of computer science. "He said, 'You're either going to teach mathematics or program with it, but at NC State, you can actually get a degree in computer science,'" Holanek says.
Holanek enrolled at NC State in 1978, double-majoring in computer science and mathematics. "At the time, the computer science program (then a part of the College of Physical and Mathematical Sciences), was very small," Holanek says.
Creating even a simple program in those days was a painstaking process. "I remember we used keypunch machines located in the basement of Nelson," Holanek says. "You really had to review the logic of your program to make it as error-free as possible. You had to wait in line to punch out your deck of cards; you'd hand it to someone at a window, and they'd give you a card with a number, and you'd have to come back three or four hours later."
Holanek used the downtime to study at DH Hill Library, and, looking back, finds that the process helped him develop his programming skills. "We didn't have the instant turnaround time you have today, but it made you a better programmer, because you had to make sure your logic was correct and virtually error free," Holanek says.
His graduation was delayed as a result of joining the co-op program, where he first worked in the field of operating system design. Deeply immersed in his work, he had trouble balancing it with his graduation requirements. "I was working on some new innovative technology, and was finding it hard to go back to finish those final few classes I needed to graduate. My girlfriend at the time, Susan, who is now my wife, convinced me to go back and complete my degree requirements," he says.
Holanek eventually received his B.S. in Computer Science in 1985, and later received a M.S. in Management (now officially known as an MBA at NC State) in 1995. During this time, he joined SAS Institute, where he worked in research and development for 15 years and professional services for an additional year. At SAS, he helped develop the Risk Dimensions software, and became fascinated with the field of Risk Management. Seven years ago, he spun off into his own company, now called the Financial Risk Group. Today, the Financial Risk Group is owned and managed by Holanek and two partners; Mike Forno, an NC State alumnus, and John Bell, who joined the company in 2006 to help manage its growth.
To date, the company has taken on projects in Sydney, Toronto, Calgary, Stockholm, Lisbon, London and other international markets. "We engage with clients around the world - a few of our newest projects are with banks in Hong Kong and Singapore," Holanek says.
The Financial Risk Group has offered Holanek a chance to work on a wide variety of solutions for various industries. "One of the appealing aspects about this job is that we are able to put working models and solutions together for different organizations – banks, hedge funds, insurance companies, energy traders, commodity firms – organizations that have interesting problems to solve, including managing market risk, credit risk, operational risk, regulatory compliance and more," Holanek says.
And he's remained close with NC State, which he credits for giving him the skills he needed to start his business. "The courses that I took and the programs I was in all apply to the problems I face in my job today," Holanek says. "Thomas Honeycutt's management class, Carla Savage's class on algorithms – have had a direct influence on the way we implement our projects."
Holanek often looks to NC State for potential employees at the Financial Risk Group. "There's a confidence you have when you hire people from NC State, because you know the academic instruction is top notch, and that first-rate students make successful employees," Holanek says. He's always looking for students with skills in both risk management and IT – students who, like him, can see the numbers.
Posted – December 2008
~smith~