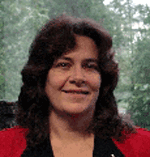 Ask Suzanne Gordon, SAS Institute's vice president of information Technology, the key to her success and she will tell you it took a strong foundation, a good dose of hard work and determination, and more than one ironic twist of fate.
"I got a very strong educational foundation at NC State," says Gordon. She continues to be impressed with the students that come out of the university, noting that she has brought many onboard at SAS. "I find the NC State students adapt quickly to new technologies...they just 'get it' faster," she says with pride.
However, Gordon would like to see more females in technology disciplines.
"I had several females in my suite at NC State who started out majoring in computer science," says Gordon, who graduated with honors in both mathematics and computer science in 1975. "Unfortunately, I was the only one to stay with it," she adds.
"The gradual decline of women in the engineering and technology fields is disturbing, and I want to encourage young women to take advantage of the many terrific career opportunities available in this space. And the reality is that the technology field needs women and the different perspective they bring to the table."
Ironically, Gordon's rise to the top leadership position over SAS' global IT team was, in fact, launched by an interesting twist of fate. "Funny," she says, "that it took me going back to get my master's degree in statistics that ultimately opened the door for the move to SAS....and back into a computer science-related role."
A similar twist occurred a few years ago when she was asked to take on an acting vice president role in professional services, primarily a sales and marketing focused team. Gordon says she felt there was a bit of divine intervention guiding her to this role.
"The time spent in professional services was a valuable learning experience," she said. "Without a doubt, it helped give me a more objective view of the business and our customer's needs, a perspective that I think will help me be a better leader as the vice president of information technology."
When asked about the professors who made the greatest impression on her, Gordon answers without hesitation, "Dr. Honeycutt and Dr. Tharp." She continues, "Dr. Honeycutt taught my first computer science course. He is great with new students and has stayed in touch with me over the years. He has also sent us some terrific graduate students here at SAS. And Dr. Tharp was also an outstanding teacher who has stayed in touch over the years. This is one of the things I appreciate most about my education at NC State. Not only did I receive an outstanding education, I developed meaningful relationships with a caring faculty. NC State is a great school with real people who are an example of our state motto, 'to be rather than to seem'."
Gordon's passion is developing people by helping them find the right place to flourish. She has been a strong proponent of hiring students, and she works hard to help them develop their skills and career interests. As a mentor, her advice is to "read the books, seek all the knowledge and advice you can gather, then allow your gut to process it all and tell you what to do."
NC State has a special place in Gordon's heart, and despite a hectic business schedule, she remains actively involved in serving the university on many fronts. Currently a member of the NC State Board of Trustees, she has also served as a member of both the College of Management Board of Directors and the Alumni Association Board of Directors, where she was a member of the Caldwell Scholarship Committee. At the request of former Chancellor Larry Monteith, she served on the university planning committee, worked for the Student Aid Association, and served as a team captain for the Wolfpack Club's annual drive.
In 1999, Gordon was honored as the Distinguished Alumna of the College of Physical and Mathematical Sciences. She provides volunteer leadership for the Campaign for NC State Students through her involvement with the Mathematics Scholarship Endowment Committee. Gordon has also been actively involved with the Department of Computer Science, where she has been a guest speaker at departmental functions and a strong supporter of women in technology initiatives.
Suzanne lives in Cary, NC with her husband Ralph, also an NC State graduate, and their two children, Emily and Stuart. They enjoy attending Wolfpack football and basketball games, water skiing, and playing tennis.
- posted 2003 - Ken Tate -