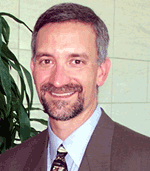 Gerhard Pilcher lives in Mount Airy, NC, where he is president of H. B. Rowe & Co., Inc., a business founded in 1946 specializing in heavy highway general contracting and large-scale site preparation for commercial and residential development. H. B. Rowe & Co., Inc. is a licensed General Contractor in North Carolina, South Carolina, and Virginia.
Gerhard is actively involved in his community as a local board member of Rotary International chairing the the Community Service Committee and recognized as a Paul Harris Fellow, past President of the Greater Mount Airy Habitat for Humanity where his focus is on construction and long term planning, and a voting member of the ACM. Gerhard is also a member of the Technology Committee for the Mount Airy City School System.
Prior to returning to his hometown of Mount Airy, Gerhard was vice president of engineering and chief technology officer for Pulsecom, Inc. He led Pulsecom from their legacy Digital Loop Carrier products into development of advanced high-speed data access products utilizing Asymmetrical Digital Subscriber Line technology (ADSL). In 1997, Gerhard opened a new engineering facility on NC State's Centennial Campus focused on high-speed data access products.
Gerhard worked 12 years for Bell Northern Research, the R&D division of Nortel Networks. He had various responsibilities in both central office switching and digital loop carrier products, and was director of R&D operations in the Atlanta facility prior to departing for Pulsecom, responsible for hardware development of an OC-12 based fiber access platform and various software projects.
Gerhard remains actively involved with NC State University and the department of computer science in particular, giving both his time and his resources. In addition to serving as one of the founding members of the department's Strategic Advisory Board, he and his wife Denise, recently committed a substantial unrestricted multi-year gift pledge to the department.
In his address to the 2004 spring graduates, Gerhard noted that being at the event was a "19-year delayed ceremony for me." He had missed his own diploma ceremony because he was enroute to his first job. Following his comments to the graduates, Pilcher was surprised with a special recognition of his own: presentation of his diploma by Dr. Alan Tharp, department head.
He then posed three challenges to the graduates:
Spend five minutes each day – 35 minutes a week – to assess what it is that you want to do in your life
Have the courage, self-confidence and discipline to start doing those things
Once you understand and discover your talents, and have the discipline and courage to build your life around those, then look around and realize that everyone has gifts and talents. Look for that in other people. (If we) appreciate, honor and realize the talents of all people, we will achieve more than we could achieve alone.
- posted 2004 - Ken Tate-