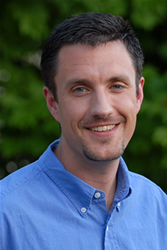 Troy Tolle is co-founder and chief technology officer of
DigitalChalk
, "the first 100 percent web-based system for building and delivering online learning." Tolle started the company in Asheville, NC last year, making use of interests he studied and explored while at NC State: media and learning technology.
When he was considering where to attend college, Tolle wanted to combine his interest in art with his interest in technology. He looked at several schools and considered a double major in graphic design and computer science. The decision to attend NC State was made when he was awarded a prestigious Caldwell Scholarship.
Once on campus, it did not take long for Tolle to get fully involved. After his first semester of Computer Science courses, he became a teaching assistant for the Introduction to Programming course. Tolle became very active in Campus Crusade for Christ and joined the Phi Delta Theta fraternity. He played a significant leadership role in the computer science club, ACM/AITP: president for three years and graduate advisor to the club while in graduate school. "Being a part of ACM during the dot-com boom was exciting. Companies were lining up to speak to the members and recruit graduating students," said Tolle. Now he is the one recruiting and offering college graduates an exciting place to work.
While in graduate school, Tolle was asked to teach the Introduction to Programming course in Java, at a time when the department was shifting its focus away from C++ to Java. While he was completing his graduate work in Human Computer Interaction, Bill Scott, former assistant department head, introduced him to the CEO of CrossLogic Corporation, where Tolle became a consultant after graduating from NC State with his M.S. in 2000.
While with CrossLogic, he helped many companies, organizations and government agencies with software architecture and design, programming and software processes. He helped design and write software for the likes of Sprint, Yellow Transportation, Wachovia, St. Jude's Children's Hospital and the U.S. Department of Defense. He has also written and contributed software to the open source community on projects varying from a complete Java framework for role-based access control to frameworks for building MVC software applications and portlets. In 2005, CrossLogic was purchased by Number Six Software, where Tolle continued to travel around the country mentoring organizations on software practices. After about a year, Tolle decided to leave and formed a company with a flagship product called DigitalChalk.
The evolution of DigitalChalk from concept to reality, started in 2005. Tolle was engaged as a consultant to a university to plan a video-based, online learning solution. That solution allowed the university to employ professors from all over the world to contribute to the university and deliver material to students around the globe. After leaving Number Six Software in 2006, Tolle was approached by some investors who had seen his work and were interested in creating a company that delivered next-generation online learning. They commissioned Tolle to build a team and design a new software system that he views as the "YouTube of online learning." One of the unique features of DigitalChalk is that it allows instructors to synchronize video, slides, and outline points, all through an online interface.
"When I remember Troy, I remember someone who always sees a glass as half full, not half empty," says Carolyn Miller, a lecturer in the CSC department at NC State. "Troy is ALWAYS positive. He is enthusiastic and fun to be with. He works hard, and his energy fills the room so everyone is raring to go!"
Growing up, Tolle was never far from technology and learning. Tolle says his father, a math professor, "is the person that I want to grow up to be." Outside of work, he enjoys all types of outdoor activities, especially hiking and mountain biking, with his wife Laura. Media, technology and learning are still a huge part of Tolle's life, even away from computers and work. Tolle is an avid photographer, shooting everything from weddings to the nature around him. "People just know they are going to get their picture taken when I am around," said Tolle. He is also a devout Christian who is very active in many of the programs and activities at Biltmore Baptist Church, including being one of the photographers for their publications and events.