When reflecting upon his undergraduate and graduate journey through NC State University's Department of Computer Science, Sven-Thorston Dietrich (pictured below during recent trip to Karlsruhe, Germany) admits that the process of personal growth was his major accomplishment. And today, that accomplishment has helped the alumnus grow into a Real-Time Linux Technologist and Principal Systems Architect at Novell, a global infrastructure software and services company… and it all started with his senior design project.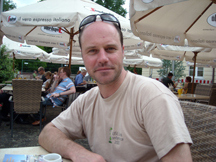 During Dietrich's senior year of his undergraduate studies (1994), he researched Global Positioning Technology (GPS), which was funded by Trimble, a leading provider of advanced positioning solutions that maximize productivity and enhance profitability. Through this research, Dietrich learned how GPS systems work, which led him to build a timeserver for his senior project – a computer on the network at NC State that would provide accurate time with other computers in an effort toy make the whole system work better for the student body.

"Senior projects can be tricky because you have to come up with an idea, choose something that really matters to you because you're going to spend a lot of time with it and it's going to be a culminating thing you do," Dietrich said. "It can be a big stepping stone for your career."

At that time, Dietrich had no idea that his senior project timeserver would become one of the primary timeservers at NC State University, which today he says is a major accomplishment.

Dietrich's timeserver also became the core of his Master's thesis, during which he aimed to refine the time synchronization in distributed systems.

Upon graduation, Dietrich began working for Trimble in California, where he worked in his specific area of expertise on GPS timing modules, which are integrated into cell phone towers to synchronize timing of call-handoff (to another tower). He then began to develop a Linux-based GPS receiver that could broadcast data via Satellite as it was being produced at remote sites. This receiver is being employed by the Plate Boundary Observatory project, a study of the three-dimensional strain field resulting from active plate boundary deformation.

Six years later, Dietrich began working for MontaVista, the undisputed leading provider of commercial-grade Linux development platforms for intelligent devices and communications infrastructure. There, he conducted a research project on the Linux Kernel, the core of the operating system that deals with the disk drives, display, keyboard and low-level devices that work together. With a growing portfolio of customers in the cell phone industry who were interested in using Linux, this research project was a significant step into building Linux Realtime – a reliable, predictable and efficient technology.

Three years later, Dietrich began working for Novell, where he has continued to accomplish his work today. Here, Dietrich maintains the Suse Linux Enterprise Real-Time Kernel, which is being utilized on Wall Street to improve the predictability of financial transaction-completion, even during overload conditions.

Dietrich said the Department of Computer Science prepared him very well for the accomplishments he has made today. Specifically, he said, Dr. Robert Fornaro, Dr. Harry Perros and Carol Miller were the key instructors who made a huge impact on his future in computer science. Fornaro specializes in Realtime Technology, while Perros specializes in network technology and Miller specializes in operating systems technology, all of whom still teach in the Department of Computer Science.

"They really showed and taught me an amazing amount of real-world, relevant and important computer information," Dietrich said. "Those three people were highly fundamental to the good preparation that I got at NC State."

Dietrich was born in Hilden, 'West' Germany, and immigrated to the United States with his family at the age of 13. He attended high school in Annapolis, Md., and moved to Raleigh to obtain a mechanical engineering degree from NC State. However, he found that his interests had shifted towards the digital systems industry and consequently transferred his major focus of study to the Department of Computer Science, where he obtained his BS and MS and began his journey of achievements.


Posted - May 2008
~forcina~