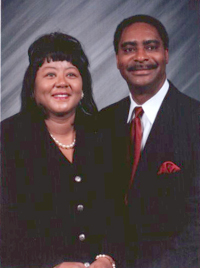 In the journey of life, Elwood Becton is proof positive that there is more than one way to get from point A to point B.
"I always wanted to be a lawyer, from the time I was a youngster growing up on a farm in Havelock, NC", says Becton. "But in the late 60s, there was just too much talk about this new field of computer science to ignore it."
The promise of an exciting career in this new technology field led Becton to NC State where he graduated with a BS in computer science in 1973, only six years after the department's official launch in 1967.
While a student at NC State, Becton was one of the original seven Eta Omicron Chapter founders of the first African-American fraternity at NC State, Alpha Phi Alpha. Also while at NC State, he met his wife-to-be, Diane Hill. Together, they have formed a team which has remained active and loyal to NC State for over 30 years. "It was tough," Diane recalls, "as we were just two of about 50 African-American students living on campus at the time". But together, they learned the value of friendship, strong bonds, and support.
Perhaps it was this foundation that allowed Elwood Becton to pursue his original dream, a career as a lawyer. "After I graduated with my computer science degree, I went to work for Southern Bell (now BellSouth) and I worked there for a couple of years, but decided this was not what I really wanted to do." Instead, with the encouragement and support of his wife, he enrolled at UNC-CH and earned his law degree in 1979. He even considered a political career, taking advantage of a joint degree program offered between UNC and Duke. Becton also earned a Masters Degree in Public Policy Sciences from Duke.
After earning the joint degrees, he returned to NC State ('79-83), where he served as Student Legal Advisor and Legal Counsel to the Division of Student Affairs. Part of his duties included providing free legal advice to students on all types of matters, with the majority of students' legal problems concentrated in the areas of traffic tickets and landlord-tenant issues. He also was the overseer of the Student Judicial process, working with the student attorney general to ensure fair and impartial hearings for those students charged with violations of university rules and codes of conduct.
In 1980, Becton along with Dr. Thomas Conway, helped launch the Peer Mentor Program, a formal mentor program for African-American freshmen students at NC State University. The program paired freshmen with successful upper-class students who served as mentors by making contact with them and by offering assistance throughout their freshman year. In 1999, Becton was inducted as an alumni member of the NC State Chapter of the Phi Kappa Phi national academic honor society.
In 1983, Becton left NC State to start a private practice and has been there ever since. His wife, Diane, also works at the practice with him now. They have three children, ages 25, 26 and 27, who have all followed in their father's footsteps, each having earned their law degrees from UNC-CH and are now practicing law.
Becton and his wife, Diane (B.A. '73, Sociology) remain actively involved as loyal supporters of NC State University. They both have served on the Alumni Association Board of Directors and the Campaign for Excellence, the Chancellor's African American Community Advisory Council and the Black Alumni Society. They also support the Wolfpack Club and serve as Wake County Representatives. The Bectons are active on campus, often serving as guest speakers to student groups and as coordinators of University-community outreach programs. They have also provided substantial financial support to the university.
While his career path may not have been the most direct route, Becton values his time at NC State and concedes his computer science degree has benefited him, even as a lawyer. "No doubt," he says, "my computer science degree certainly helped me improve my analytical and problem solving skills, and I use them every day of my life".
- posted 2004 – Ken Tate -