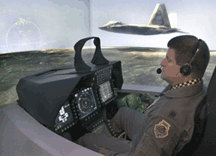 "It's way cosmic, and very, very complicated." That's how Derek Meyer describes his current consulting project, the F/A-22 Air Combat Simulator being developed by Lockheed Martin in Marietta, GA.
His understanding of computer science gained as an undergraduate student at NC State while on an Air Force ROTC scholarship, coupled with several decades of flying experience that included stints as a fighter pilot and an instructor pilot, prepared him well for his current role.
Meyer credits Dr. Alan Tharp, professor of computer science and one of his undergraduate instructors, for getting him on the right track. "The way he ran his classroom and how he organized things, his methodology it just clicked with me," Meyer says. "It helped me do my work (then), and it helped me later on in how to deal with problems, even after leaving graduate school and going into a completely different field. (And) all those things helped me get my job at Lockheed when I left the military service."
Meyer had planned to enter the Air Force after receiving his bachelor's degree in computer science, but a backlog in pilot training at the time postponed the start of his military career. He opted for delaying active duty for a year and headed off to graduate school at the University of Texas at Austin, where he studied electrical engineering.
After completing his master's degree, he started pilot training in the Air Force and launched a military career that included being an F-15 Eagle pilot, serving as an instructor pilot and squadron weapons officer, attending the U.S. Air Force Fighter Weapons School, and eventually returning as an instructor. The school combines academics and flying with the latest fighter tactics - a Ph.D. program for fighter pilots. His last assignment involved duties at the F-15 test and evaluation squadron and as a core pilot for the F/A-22 Raptor, being developed by Lockheed in Marietta, GA. "I provided advice and really enjoyed the design side," he says.
This led to Meyer's employment as a staff engineer with Lockheed. He worked on cockpit design, pilot-vehicle-interface, and assisted the chief pilot in preparation for the Raptor's first flight. During the same period, he was flying F-15s on weekends as a member of Georgia's Air National Guard.
He left the National Guard in the mid-1990s, but has continued flying, now as a pilot for FedEx Express, where he has been working since 1995.
"But in 1997, some of the guys I worked with at Lockheed wanted help with an aircraft design project, so I started there again as a part-time engineering contractor."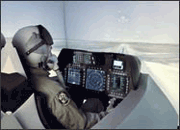 Currently, Meyer is a part-time consulting employee for Science Applications International Corporation (SAIC), involved in the operational test and evaluation of the F/A-22. He works with the Air Force Operational Test and Evaluation Center (AFOTEC) and Lockheed Martin's F/A-22 Air Combat Simulation (ACS). The ACS features 12 advanced cockpits with 360-degree out-the-window visuals that he describes as incredible. The ACS allows today's Raptor pilots to fly in dense, advanced threat environments that current airspace and budgets don't allow.
"We have some outstanding software engineers that have helped to make this happen," he says.
- posted 2004 - Anna Rzewnicki -