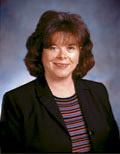 Kathy Markham is Vice President of Information Systems Planning & Field Services for Kindred Healthcare in Louisville, KY, the nation's largest full-service long-term care provider. In this executive role, Markham serves as Kindred's point person for I/S strategy and the enterprise architecture plan supporting this $3.4 billion company. She also serves as head of the project management office and the I/S recruiting and retention committee for Kindred, a company known for its innovative uses of technology.
As a female executive in the IT community, Markham understands the importance of maintaining balance between her professional and personal life. She is proud of her career, and equally proud that she and her husband have raised five healthy and productive children. Her career has provided her the opportunity to interact with people, learn about business, grow with the technology, lead a fulfilling life outside of work, and know that her work directly benefits society.
Markham attributes much of her success to great mentors and teachers, beginning with her father, who urged her to consider studying computers rather than teaching math. In a world of complex algorithms, she maintains a focus on the simple work hard, play hard formula for success.
While working on her computer science degree at NC State, Markham interned locally with IBM, where she remained after graduation as a programmer. Her longing for a role which allowed her more interaction with people - especially those who were using the applications she was developing led her into professional services. While working in software design and project management roles with IBM consulting divisions in Washington, D.C. and Atlanta, she got to work on both industry and government projects.
While working as a manager for IBM in Nashville, Markham developed a stronger sense of balance in her life, inspired by her female boss who had twins younger than her own children at the time. She's probably the one who taught me how to balance kids and work, Markham said. We talked about it a lot, and she was very understanding.
When her boss decided to leave IBM to start a new consulting practice with KPMG Peat Marwick Markham and six others left IBM to go with her. It was a great opportunity to start up a new business under the umbrella of a large firm, says Markham, but she left when her children became teenagers because of the frequent travel.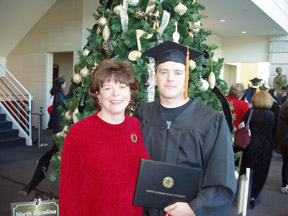 This career move led her to a strategic planning role at Columbia HCA in Nashville, the largest healthcare/hospital company in the country. Markham calls her CIO a "great mentor" who taught her that "you have to understand the business side before you can be successful on the technology side." She learned about the healthcare industry and managing hospitals, and incorporated these learnings into weekly presentations on new technology applications' voice recognition, smart cards, etc. for the CEO. It was a stretch, but Markham said she "loved every minute of it." During her tenure, Columbia HCA was recognized as being number one on the InformationWeek 500 for innovative use of technology!
As she had done before in her career, she followed this CIO and mentor to Kindred Healthcare in Louisville, where she became the Vice President of Information Systems Planning & Field Services. According to Markham, Kindred Healthcare has 75 hospitals, 250 nursing homes, 35 pharmacies, a rehabilitation center, and "lots of challenges".
Markham wishes more women were choosing computer science careers. She said, "I have definitely made choices along the way about slowing down my career and then speeding it up, based on my family. I don't know any other way I could have made as much money and had the flexibility and opportunity that I've had."
To encourage more young women to enter and stay in the computer science discipline, Markham is a long-distance mentor for NC State's Women in Computer Science (WiCS) group, and has made a significant multi-year pledge in support of the department's Diversity in Computer Science Endowment. She also supports women in her community through the Louisville Women in Technology organization. She also participates in the Technology Network for Greater Louisville Region, where she was recognized at the "2003 Top TeN Awards" dinner as a nominee in both the Leadership and Women in Technology categories.
At NC State, Markham says she received very good preparation for her career in computers. She especially remembers Joyce Hatch's advice and Dr. Fornaro's enthusiasm for computer science.
Today, she serves on advisory boards for computer science departments at NC State and the University of Louisville. She advises universities to include courses appropriate to business especially project management in their computer science curricula, which many programs do now. She said that Once you're in the business world, you're going to be given a business problem to solve. You're going to have to lay out a project plan that includes defining requirements, designing a system, and then building and testing it. There is a very methodical way that you should go about that in order to be successful. Markham is also convinced that today's computer science graduates need a strong emphasis on developing strong written and verbal communication skills.
Her work in healthcare has given Markham an opportunity to help doctors and nurses have more time to focus on direct patient care. They get more information faster and more accurately, and some of the decision process has been automated. She understands just how important the effective use of technology is to the healthcare field. People's lives depend on it.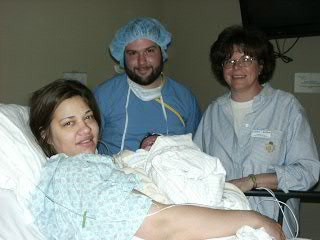 Markham has her own niche in direct patient care, as she works with expectant parents as a certified doula (labor support professional), having attended approximately 100 births. She holds certifications to teach a variety of childbirth related ranging from Lamaze to Hypnobirthing.
Despite career moves across the southeast, Markham has long maintained ties to the Raleigh area and NC State University. Perhaps that helps explain why her son Alan followed in her footsteps earning a BS in Computer Science in 2004, and is now working for IBM. Her youngest son, Chris, is also an NC State student where he is pursuing a degree in Electrical Engineering. Markham lives with her husband, Bruce, in Prospect, KY.
Having achieved incredible professional success and balance in a service-focused career, we are proud to recognize Kathy Markham as a NCSU Computer Science Alumni Achiever!