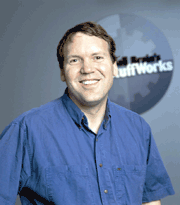 Somewhere in our youth, most of us passed through a phase when we questioned everything, when we longed for the answers to why and how things work the way they do. At some point, most of simply accept the fact that things just work, and we stop asking why. This, of course, is not the case with one very special NC State computer science alumnus, Marshall Brain, who has made a career from answering the question of how stuff works.
Brain, whose very name is appropriate for someone consumed with the eternal search for knowledge, created HowStuffWorks Inc., a media company that is internationally recognized as the leading provider of information on how things work. Through the award winning web site, www.howstuffworks.com, and a host of other media offerings such as books, videos, CDs, and magazines, HowStuffWorks offers in-depth articles that explain the world from the inside out to millions of readers every month.
Visit the HowStuffWorks web site on any day, and you recognize it is an ever-changing "work in progress". Inquisitive minds can satisfy their every conceivable question from "how do touchscreen monitors know what you are touching" to less technical topics such as "why do cats have whiskers". What's the most bizarre topic ever featured on HSW? "We have featured many non-technical topics," says Brain, "but the 'sleeper-hit' award has to go to our piece on 'How Nostradamus Works'. This has been especially popular given the tragic events of 9/11, and people's natural desire to search for answers to such catastrophic events."
HowStuffWorks is not just a dynamic web site. Realizing that different people respond to different communications vehicles, Brain also uses other media such as TV and radio to disperse knowledge. He adds, "We now produce one minute audio vignettes on 'how stuff works' topics which are heard by over 1.5M people weekly on over 30 radio stations across the nation." In addition, Brain recently published HowStuffWorks Express, a magazine geared towards elementary and middle school students and their teachers.
Brain, who first became involved in work on the NC State campus during a project as a high school junior, has seen first-hand the significant technology changes that have taken place on campus. "I experienced three major technology transitions in computer science, from 'punch cards' to first generation PCs to UNIX workstations." Brain holds a B.S. in electrical engineering from Rensselaer Poly Tech and an M.S. in computer science from NC State. While at NCSU, he served as a member of the computer science faculty, and was elected to the North Carolina State University Academy of Outstanding Teachers for taking complex subject matter and making it come alive. "I really enjoy teaching," says Brain. "I have just traded the classroom for another medium." And who was his favorite teacher? "Easy," he says. "That would be my masters sponsor and current department head, Dr. Alan Tharp. He was not only a great teacher, he also invited me over to his house to pick blueberries and have homemade blueberry pie!"
"I also love writing," Brain continues. "Regardless of where life's journey takes me, I think it will always involve writing." He is the author of over 10 books including "The Teenager's Guide to the Real World," (1997, BYG Publishing), recognized by the New York Public Library in 1999 as one of the 50 top books for teens. Ernst & Young LLP/CNN named him one of 1999's top 25 entrepreneurs in North and South Carolina.
Marshall Brain is a frequent and popular speaker at on-campus entrepreneurial and executive lecture series. He lives with his wife, Leigh Ann Brain, and their four children, David, Irena, John, and Ian, in Raleigh, NC.
Brain returned briefly to NC State in 2002 to teach in the computer science department, and now continues to play a key front-line spokesperson role for HowStuffWorks and he remains active on the speaking circuit.
- posted 2002 - Ken Tate -