Computer Science eNewsletter
Below is department related news, gathered from a variety of sources across campus, provided monthly for alumni, students, and friends of the Department of Computer Science at NC State University.
If you are a CSC alum and wish to be added to the email distribution list, click here. Corporate or individual friends of the department may be added to our distribution list by sending an email request to Ken Tate, Director of Development & External Relations for the NCSU Department of Computer Science.

---
November 30, 2009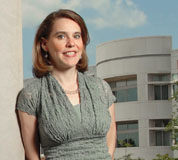 Antón Named ACM Distinguished Scientist
Dr. Annie Antón (pictured at right), professor of computer science at NC State University, has been named a 2009 Distinguished Scientist by the Association for Computing Machinery (ACM). more
Gordon to Speak at Fall 2009 Diploma Ceremony on December 19th
We are honored to have alumna Suzanne Gordon (B.S. '75, M.S. '80), serve as our keynote speaker for the NC State University Computer Science Department's fall diploma ceremony. The event will take place on Saturday, December 19th at 1:30 p.m. in the main sanctuary at Providence Baptist Church. Gordon is the Vice President, Information Technology and Chief Information Officer at SAS Institute, as well as a member of the NC State University Board of Trustees. more
NC State Research Shows Way To Block Stealthy Malware Attacks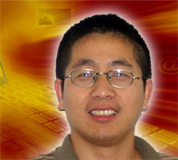 The spread of computer viruses (malware) is a growing problem that can lead to crashed computers, stolen information, and lost productivity. Dr. Xuxian Jiang (pictured at right) and other researchers at NC State have devised a new way to prevent viruses from taking over your computer systems. more
NC State to Adopt New Epic Games Toolkit into Gaming Curriculum
The North Carolina State University Computer Science Department will be one of the first to incorporate the Epic Games, Inc. Unreal Development Kit (UDK) into its curricula for game development-related courses. UDK is a free edition of Unreal Engine 3 that provides community access to the award-winning toolset. more
Samatova Co-mentors Region Six Winners in Siemens Competition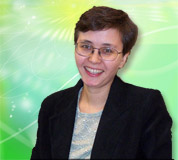 Dr. Nagiza Samatova (pictured at right), associate professor of computer science at NC State University, along with Dr. Anatoli Melechko, associate professor of materials science and engineering at NC State University co-mentored two high school students who are Region Six winners of the Siemens Competition in Math, Science and Technology, the nation's premier high school science competition. more
IBM Advances Cloud Computing in Education; Unveils IBM Cloud Academy
NC State University is one of 17 educational institutions worldwide to participate in the IBM's Cloud Academy, a global forum for educators, researchers and information technology (IT) personnel from the education industry launched to pursue cloud computing initiatives, develop skills and share best practices for reducing operating costs while improving quality and access to education. more
Student Team Takes 1st Place at UNC Site in the ACM "Battle of the Brains" Contest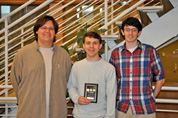 Two teams of NC State University computer science students, coached by Dr. Thomas Honeycutt, made a strong showing in the Mid-Atlantic Regionals of the 34th ACM International Collegiate Programming Contest (ICPC), or "Battle of the Brains," held November 7th at the University of North Carolina at Chapel Hill. Team "NCSU1" made up of Kelsey Hawkins, David Boyuka and Stuart Robinson (pictured at right) captured 1st at the UNC competition site, while placing 4th out of over 160 teams competing in the Regional competition. more
NC State Computer Science Department Now on iTunes U
With the official launch of the NC State iTunes U channel, the NC State University Department of Computer Science is now able to provide an extensive portfolio of content on iTunes U. iTunes U is a part of the iTunes Store featuring free lectures, language lessons, audiobooks, and more, that you can enjoy on your iPod, iPhone, Mac or PC. more
Departmental Research Grants, Gifts, and Support
Cisco has donated $25,000 in support of the department's Senior Design Center and ePartners Program.
Thomson Reuters has donated $2,500 in support of the department's ePartners Program.
Dr. Laurie Williams has been awarded $171,594 by ABB, Inc. to support her research proposal titled "Defect Observability." more
Dr. James Lester has been awarded $60,000 by the University of Rochester (Battelle) to support his research proposal titled "JOUST: Justification for Objectives Using Spoken Text." more
Dr. Nagiza Samatova has been awarded $299,745 by Oak Ridge National Laboratory (US Dept. of Energy) to support her research proposal titled "Scalable Statistical Computing for Physical Science Applications." more
Two members of our faculty have been selected to receive Google Research Awards totaling over $85,500. Dr. Edward Gehringer has been awarded $35,000 to support his research proposal titled "Using Social Media and Peer Review to Enhance Constructivist Learning." Dr. Xiaohui (Helen) Gu has been awarded $50,519 to support her research proposal titled "Predictive Elastic Load Management for Cloud Computing Infrastructures." more
Faculty / Staff News
Monica Watkins joined the department on November 16th as our new financial officer. She has been with the university for 7 years, most recently serving as the Financial and Human Resources Manager for the NC State Agricultural and Extension Education Department.
The NC State University Department of Computer Science is pleased to announce the addition of David L. Roberts to our faculty for the fall 2010 semester. more
Dr. Tao Xie has been recognized with the Best Paper Award and ACM SIGSOFT Distinguished Paper Award at the 24th IEEE/ACM International Conference on Automated Software Engineering (ASE 2009) in Auckland, New Zealand. more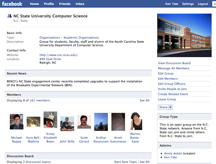 Department Pages on Facebook and LinkedIn
Alumni, students, faculty, staff, and corporate partners of the NC State Department of Computer Science, interested in networking to foster collaboration, entrepreneurship, partnerships, career development and professional growth are invited to join the department's pages on Facebook and LinkedIn.
CSC "Jobs List"
If you are a CSC student or alum and would like to receive an automatic email notice whenever new postings are activated on the CSC online jobs board, you are invited to subscribe to the cscjobs list. We may also use the list to announce career fairs, company campus visits & info sessions, and other career related events and activities. This is an "opt-in" list, so you must subscribe to receive the notices. Students can subscribe via the Subscribe Interface at http://lists.ncsu.edu/cgi-bin/mj_wwwusr (type cscjobs in the Mailing List box and press Search) or by sending an email to: mj2@lists.ncsu.edu (leave Subject Line blank), in the body of the message type subscribe cscjobs, and then send your message. For more information about subscribing please check http://lists.ncsu.edu/.