Computer Science eNewsletter
Thompson to Speak at Spring 2012 Diploma Ceremony on May 11th

The NC State University Computer Science Department will hold its spring diploma ceremony on Friday, May 11 at 7 p.m. in the main sanctuary at Hope Community Church, located at 821 Buck Jones Road, Raleigh (directions). Donald A. Thompson, Jr., President and CEO of I-Cubed, will provide the keynote address. For the benefit of relatives and friends who may not be able to attend the event in person, we are pleased to announce that the event will be available online via live video streaming at http://go.ncsu.edu/csc-diploma. The video will be available for playback at the same site for approximately two weeks after the event. more

Researchers Boost Efficiency of Multi-Hop Wireless Networks
Multi-hop wireless networks can provide data access for large and unconventional spaces, but they have long faced significant limits on the amount of data they can transmit. Now NC State researchers, led by Dr. Rudra Dutta, have developed a more efficient data transmission approach that increases the average amount of data that can be transmitted within a multi-hop wireless network by 20-80 percent. more
Sleeth Receives COE 2012 Award for Excellence

The Computer Science Department at NC State University is pleased to announce that Andrew Sleeth, admissions specialist in the Department's Graduate Office, has been recognized as one of three recipients of a College of Engineering 2012 Award for Excellence. Carlos Benavente, IT Manager in the Computer Science Department, was also nominated for the award. more
NC State to Collaborate on National "Big Data" Initiative
Aiming to make the most of the fast-growing volume of digital data, the White House Office of Science and Technology Policy recently announced a "Big Data Research and Development Initiative." Led by Dr. Nagiza Samatova, NC State is among six research laboratories and seven universities that are collaborating on the SDAV Institute, a project that hopes to improve the tools and techniques needed to access, organize and glean information from huge volumes of digital data. By improving our ability to extract knowledge and insights from large and complex collections of digital data, the initiative promises to help solve some of the Nation's most pressing challenges. more
Dey Selected to Attend Mentoring Workshops
Congratulations to Piyali Dey, a PhD student in the NC State Department of Computer Science, who has been selected to receive student travel awards (travel expenses, meals and lodging) for two workshops designed to mentor and support women in their graduate school studies - the CRA-W Graduate Cohort Workshop in Bellevue, WA and the the Career Mentoring Workshop (co-located with SIGCSE 2012) in Raleigh. more
Handing Out the Keys to the Spaceship: Changing the Game at NC State University

Though the James B. Hunt Jr. Library is still under construction on NC State University's Centennial Campus, it is already—as promised—giving students pioneering, hands-on experience with technologies that they would not have a chance to work with at any other university in the world. NC State's Digital Games Research Initiative currently supports one of the top video game design and development programs in North America, based in part on the cutting-edge courses taught in collaboration by the College of Design and the Department of Computer Science. This semester students have had the opportunity to work with a digital palette the size of which they could only have dreamed of in the past, a prototype of the 21-foot-wide, high-definition video wall that will be the centerpiece of the Hunt Library's Gaming Lab. more
New College of Sciences Announced
NC State will replace the College of Physical and Mathematical Sciences (PAMS) with a broader, more comprehensive College of Sciences, Chancellor Randy Woodson reported at the April 20 meeting of the Board of Trustees. The move comes after a careful, yearlong review of academic science programs by a diverse university task force supplemented by additional campus feedback. more
NC State Charges Ahead
Electric Vehicle (EV) charging stations will soon be dotting the landscape on Centennial Campus. Currently under construction, each location will have the capacity to charge two vehicles. more
Who Says Social Media Has No Emotion?

Have you ever wondered what someone really meant in the tweets or emails you read on a daily basis? Are they written by someone who means what they say or is angry, apathetic or just devoid of emotion? Or perhaps you are reading too much into the text, which has happened to almost anyone who has been on the receiving end of an unclear electronic response. Dr. Christopher Healey and his team have paved the way for clearing up some of the mystery behind social media emotions. more
NCSU offers lawncare app for homeowners, landscapers
Spring is here. The flowers are blooming, bees are buzzing, and the grass is growing. That means people are pulling out their mowers and other equipment to care for their lawns. Now, homeowners and landscapers who want information on caring for their lawns have a new resource in a lawncare app created by NC State University's Turfgrass Program. more
Departmental Gifts & Research
Microsoft has presented Dr. Emerson Murphy-Hill an unrestricted award of $25,000 in support of the Software Engineering Innovation Foundation 2012. Microsoft has also donated a dozen wired Xbox Controllers valued at approximately $360 to be used to support a special Middle School Girls Computer Science Camp to be hosted here at NC State this summer.
Two Toasters has donated $5,000 to the department in support of the Sr. Design Center.
ISSA Raleigh Chapter has donated $10,000 to the department in support of the ISSA / Chip Kelly Scholarship Endowment.
We are happy to report that 27 donors have contributed pledges and gifts to date totaling over $6,000 toward the creation of a named scholarship endowment in honor of retiring associate professor, Dr. Thomas Honeycutt. Every dollor will be matched, up to $50,000, by a generous pledge from alumnus, Bobby R. Johnson Jr., and his wife Donna. If you would like more information on how to give, click here.
Dr. Tao Xie has been awarded $30,000 by the National Institute of Standards & Technology to support his research proposal titled "Access Control Policy Tool (ACPT) Phase II Development." more
CSC Wolf Bytes
Chris Miller (B.S. CSC '05), who passed away after a sudden illness on December 21, 2010, has been honored by IBM and co-workers with a memorial bench next to the basketball court on IBM's Littleton, MA campus. In a note to his parents, a co-worker said, "We miss Chris very much and seeing this bench will always be a reminder of how he lived his life, his contributions to IBM, and how he touched all of our lives."
Dr. Harry Perros served as a keynote speaker at the ICNFI 2012 conference last week in Istanbul, Turkey where he ran into were several old students and post-docs. The exuberant Perros is shown below with Dr. Derya Yiltiz (Post doc, 2008-09, Associate Prof at Istanbul University), Dr. Mustafa Kasapbasi (Post doc, 2011-12, Assistant Prof. at the Univ. of Commerce), Dr. Harry Perros, Dr. Hali Zaim (PhD in ECE, 2001, Vice Chancellor and Professor at the Univ. of Commerce), and Dr. Raif Onvural (PhD, 1987, founder of Orologic and currently a Professor at Maltepe University).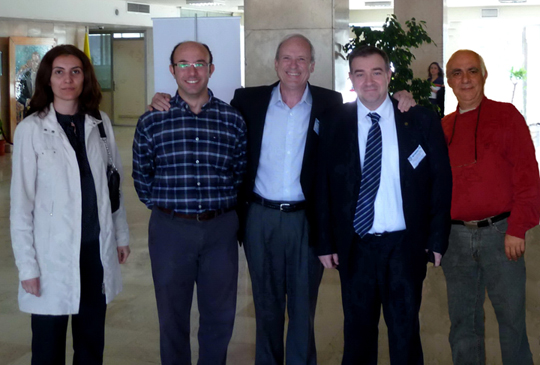 Led by Dr. Michael Young, students and faculty from the Digital Games Research Center recently represented the department at the East Coast Games Conference here in Raleigh delivering several keynotes and demonstrating their work in the expo area. Over 1,000 attendees, mostly gaming industry professionals, visited the conference and saw our display featuring demos of 2D and 3D game art design, NSF-sponsored game-based tools like IC-CRIME, and the new game that was built by undergraduates to be featured in the new Hunt Library.
Follow the Department on Facebook, LinkedIn, and Twitter!

Alumni, students, faculty, staff, and corporate partners of the NC State Department of Computer Science, interested in networking to foster collaboration, entrepreneurship, partnerships, career development and professional growth are invited to follow us on Facebook, LinkedIn, and Twitter.
Personalized Job Search Agent in ePack
If you are a CSC student or recent graduate (within 12 months post-graduation) and would like to receive email notifications when new jobs are posted on ePack matching your profile, you can set up your own customized job search agent to receive just the postings you desire (intern vs. full time, etc). For a short video tutorial on how to create your own personalized job agent, click here. Experienced alumni looking for career assistance are encouraged to take advantage of NC State's Alumni Career Service.