The Fidelity Investments "Leadership in Technology" Speakers Series Proudly Presents...
---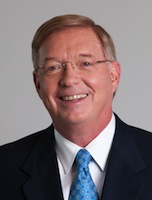 Brad Wilson
President & CEO, BCBSNC
Technology and Data in Health Care: Making It Better
Thursday, January 24th, 6:00 PM; EB2 1231
---
Technology and Data in Health Care: Making It Better
Abstract: Our health care system is undergoing unprecedented change – from the Affordable Care Act to innovations that promise to improve quality and reduce costs. Brad Wilson, CEO of Blue Cross and Blue Shield of North Carolina, talks about the challenges the health care industry faces and describes how insurers, providers and others are banking on technology and data to improve the system.
---
Speaker Bio
Brad Wilson brings to Blue Cross and Blue Shield of North Carolina a passion for health care, a deep commitment to community involvement and expertise in business and public policy.

As president and CEO of the state's largest health insurer (4,000 employees, 3.7 million customers), Wilson is dedicated to improving North Carolina's health care system, making health care more affordable and helping BCBSNC adapt in a changing health care environment.

Wilson serves as chair of the National Institute for Health Care Management and works with the Council for Affordable Quality Healthcare to address health care challenges at the national level. He also serves as a director of the Blue Cross and Blue Shield Association, America's Health Insurance Plans (AHIP), BCS Financial Corporation and Prime Therapeutics, among others.

This work continues in North Carolina, where he serves on the board of the North Carolina Institute of Medicine and chairs the Blue Cross and Blue Shield of North Carolina Foundation — an independent charitable organization that has invested more than $80 million in community-based health and wellness efforts. He is also a member and past chair of the University of North Carolina Board Of Governors, treasurer of the North Carolina Chamber and board member of the Research Triangle Regional Partnership.

Wilson, who joined BCBSNC in 1995, held a range of senior-level positions before being tapped to lead the organization in 2010. A lifelong North Carolinian, previously he practiced law and served as general counsel to Gov. Jim Hunt, directing the governor's legislative strategy and heading his legal department.
---
Note to CSC Graduate Students
These lectures have been approved by the CSC Graduate Oversight Committee to count toward the required lectures for graduate students. Download seminar attendance form.
---
Watch the Talk