Our New Building - Engineering Building II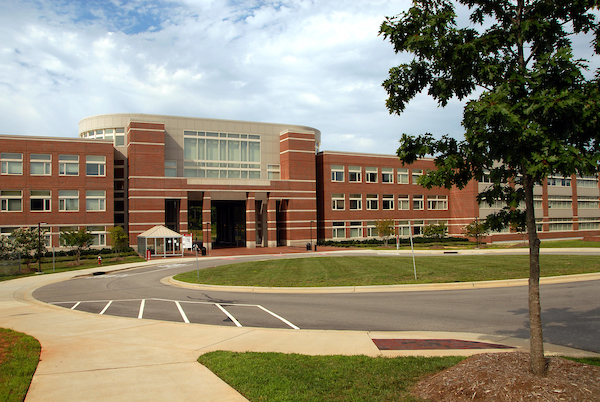 The Department of Computer Science is located in the new $41 million, 210,000 square foot Engineering Building II on Centennial Campus. This building enables our students to take the majority of their courses and conduct research with our faculty in state-of-the-art classrooms and laboratories.
Computer Science teaching and research space and offices are located in the east wing of the building; the College of Engineer's Department of Electrical and Computer Engineering is located in the west wing.
This building offers the opportunity - through a naming rights campaign - to help advance the department's efforts in academics and research by elevating the levels of support available for enhancing existing programs and exploring new initiatives.
The Naming Rights Campaign
NC State's Board of Trustees has approved the Naming Rights plan which provides opportunities for both corporations and individuals to help support the academic and research mission of the department through major gift support.
Qualifying contributions will be recognized with the naming of areas within the new building, including offices, labs, classrooms, conference rooms, and common areas, or the entire building. Flexible giving options are available, including multi-year pledges as well as combined outright and deferred gifts..
The primary goal of the naming rights campaign is to help grow NC State's endowment levels which currently rank far behind many of our peer institutions.
College guidelines require that 50 percent of a qualifying donation be allocated toward an unrestricted endowment. The remainder can be added to an existing cash fund or endowment, or it can be used to create a new endowment aligned with the donor's interests and the department's most critical needs, such as professorships, graduate fellowships, scholarships, etc. The naming rights program offers a unique multi-legacy gift opportunity for our donors, who in turn will be recognized over time with a permanent named space in the new building.
Sample Named Space Options
| | |
| --- | --- |
| Entire Building | Please contact us |
| East Wing (Computer Science) | Please contact us |
| Glass Atrium (2), Outdoor Terrace | From $1,000,000 |
| Large Lecture Halls (4 or more) | From $1,000,000 |
| Classrooms (numerous) | From $100,000 |
| Porches, Reception Areas, Lounges | From $100,000 |
| Research Labs (numerous) | From $50,000 |
| Teaching Labs (numerous) | From $50,000 |
| Conference Rooms (numerous) | From $25,000 |
| Faculty and Staff Offices | From $25,000 |
For additional information, contact:
Ken Tate, Director
Director of Engagement & External Relations
Department of Computer Science
College of Engineering
1204-F EBIl, Box 8206
NC State University
Raleigh, NC 27695-8206
919-513-4292
kmtate2@ncsu.edu