The Fidelity Investments "Leadership in Technology" Speakers Series Proudly Presents...
---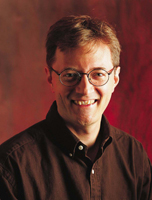 Michael Tiemann
VP of Open Source Affairs, Red Hat
Innovation and Sustainability - Two Sides of the Same Coin
Thursday, February 10th, 6:00 PM; EB2 1231
---
Innovation and Sustainability - Two Sides of the Same Coin
Abstract: As management and technology gurus John Hagel and John Seely Brown observe in the book 'The Only Sustainable Edge', people are working harder than ever, yet companies are creating less and less value. Part of this is a result of a fundamental misunderstandings about competition and innovation, and part of this is also due to a lack of understanding of the nature of sustainability. Michael Tiemann has developed an independent narrative based on his 20+ years of experience as an open source developer, entrepreneur, executive, and evangelist which extends Hagel and Brown's work by unifying the concepts of innovation, sustainability, and value-creation into a process he calls 'Exonovation'. Tiemann will then present a number of examples of exonovation at work, delivering 100x higher quality at 1/10th the cost and, ultimately, industry-transforming business value.
---
Speaker Bio
Michael Tiemann is a true open source software pioneer. He made his first major open source contribution more than two decades ago by writing the GNU C++ compiler, the first native-code C++ compiler and debugger. His early work led to the creation of leading open source technologies and the first open source business model.

In 1989, Tiemann's technical expertise and entrepreneurial spirit led him to co-found Cygnus Solutions, the first company to provide commercial support for open source software. During his ten years at Cygnus, Tiemann contributed in a number of roles from President to hacker, helping lead the company from fledgling start-up to an admired open source leader. When Cygnus was acquired by Red Hat in 2000, Tiemann became Red Hat's Chief Technical Officer (CTO) before becoming its first Vice President of Open Source Affairs. In that role Tiemann provides technology, strategy, and policy advice to executives in the public and private sectors.

Tiemann graduated from the Moore School at the University of Pennsylvania (Class of 1986) with a BS CSE degree, and later did research at INRIA (1988) and Stanford University (1988-1989).

Tiemann presently serves on a number of boards, including the Open Source Initiative. Tiemann also provides financial support to organizations that further the goals of software and programmer freedom, including the Free Software Foundation and the Electronic Frontier Foundation.

As part of his interdisciplinary approach to furthering the understanding and practice of open source, he accepted an appointment as a Visiting Scholar at the School of Infomration and Library Science at UNC Chapel Hill (2004-2005). He was also a founding member of the Board of Advisors for the Center for Environmental Farming Systems (2006-present). Tiemann has also remained active in the Creative Commons community, as both a sponsor of projects and promoter of the cause.
---
Note to CSC Graduate Students
These lectures have been approved by the CSC Graduate Oversight Committee to count toward the required lectures for graduate students. Download seminar attendance form.
---
Watch the Talk