The Fidelity Investments "Leadership in Technology" Speakers Series Proudly Presents...
---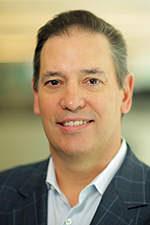 Pablo Martinez
Head of Cyber Operations, Fidelity Investments
The Evolving Cyber Threat Landscape
Tuesday, October 29th, 6:30 PM; EB2 1231
---
The Evolving Cyber Threat Landscape
Abstract: The incidence of reported cybersecurity breaches has grown by more than 66% in just the past three years. And, as new technologies continue to emerge, it's become increasingly challenging to stay ahead of cyber criminals. This is especially relevant for the financial services industry as we rely on the latest digital innovations to optimize the customer experience. Pablo Martinez, Head of Cyber Operations at Fidelity Investments, offers his insight on the changing dynamics of the global cyber threat landscape and suggestions on the preventative measures you can take to stay cyber safe.
---
Speaker Bio
Pablo Martinez is head of Cyber Operations for Fidelity Investments, a leading provider of investment management, retirement planning, portfolio guidance, brokerage, benefits outsourcing and other financial products and services to more than 25 million individuals, institutions and financial intermediaries.
In this role, Mr. Martinez oversees the enterprise teams responsible for network monitoring, threat alert assessment and escalation, penetration testing, secure code reviews, and the insider threat program, including data loss prevention.
Prior to joining Fidelity in February 2017, Mr. Martinez served as Managing Director and Global Head of Investigations and Cyber Crime for Citigroup, Inc. In this role, he oversaw and coordinated all transnational investigations conducted by Citigroup's Security and Investigative Services (CSIS). He also helped create and lead the company's Cyber Security Fusion Center, a best in class, first of its kind function for the financial services sector.
Prior to that, Mr. Martinez served for more than 21years—from 1990 to 2012—in the U.S. Secret Service. Most recently, as Special Agent in Charge of Cyber Operations, he supervised and led investigations of some of the nation's most complex cyber intrusions into the networks of financial institutions, trading platforms, and clearing houses. Mr. Martinez has testified before the Senate Banking Committee, Senate Judiciary Committee and House Energy & Commerce Committee on cyber security matters. His earlier Secret Service roles included tenures as supervisor of the New York Electronic Crimes Task Force, and member of the Presidential Protective Division.
Mr. Martinez is a 1990 graduate of the Virginia Military Institute.
---
Note to CSC Graduate Students
These lectures have been approved by the CSC Graduate Oversight Committee to count toward the required lectures for graduate students. Download seminar attendance form.