The Fidelity Investments "Leadership in Technology" Speakers Series Proudly Presents...
---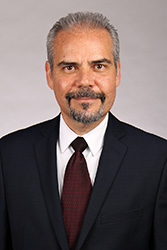 Lance Berberian
SVP & CIO, LabCorp
The Impact of Technology on New Healthcare Models
Thursday, January 31st, 6:30 PM; EB2 1231
---
The Impact of Technology on New Healthcare Models
Abstract: LabCorp has radically altered the healthcare industry by combining diagnostic and drug development capabilities within one company. This makes the vision of precision medicine, patient centric care, improved clinical trials, and other new approaches to healthcare a near term possibility. This transformation is heavily dependent upon the rapid adoption of modern technology; including AI/ML, big data, modern software development techniques, bioinformatics, and many other advancements. During this presentation, Lance will share the business case for this new approach to healthcare as well as a variety of technology initiatives that support LabCorp's mission - "to improve health and improve lives".
---
Speaker Bio
Lance Berberian has been the Chief Information Officer and Senior Vice President of LabCorp since February 2014. Prior to joining the Company, he served as Chief Information Officer at IDEXX Laboratories, a global leader in diagnostics and IT solutions for animal health and food and water quality, from May 2007 to January 2014. Mr. Berberian served as Chief Information Officer and President of Kellstrom Aerospace, a fully integrated aviation supply chain firm, from January 2000 to April 2007. He also served as Chief Information Officer of Interim Healthcare and Quest Diagnostics and has an extensive track record of strategic IT vision, leading edge innovation, and laboratory industry experience.
---
Note to CSC Graduate Students
These lectures have been approved by the CSC Graduate Oversight Committee to count toward the required lectures for graduate students. Download seminar attendance form.
---
Watch the Talk