The Fidelity Investments "Leadership in Technology" Speakers Series Proudly Presents...
---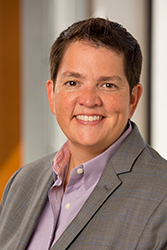 Opal Perry
VP and Divisional CIO for Claims Technology Services, Allstate
Digital Forces for Good: Tying Purpose to Action
Tuesday, January 30th, 6:00 PM; EB2 1231
---
Digital Forces for Good: Tying Purpose to Action
Abstract: For over 86 years the Good Hands of Allstate have served customers in their time of need and restored their lives after the unexpected happens. Leveraging a host of technological advancements in mobile, analytics, machine learning and other areas we are creating software to revolutionize the claims experience and our industry. In this talk we'll share more about Allstate, talk about recent innovations and their application in recent hurricane disaster response and talk about how many individual efforts in academia and industry over the past decades build upon each other to create increasingly advanced capabilities and customer experience.
---
Speaker Bio
Opal Perry is vice president and divisional chief information officer of Claims Technology Services at Allstate Insurance, leading a global engineering workforce developing and sustaining critical software systems for property and casualty claims.
Opal has over 20 years of expertise in building and growing global technology organizations across a variety of software engineering disciplines in software development and technology infrastructure.
She earned her Bachelor of Science in Computer Engineering with a double major in Engineering and Public Policy from Carnegie Mellon University and her Master of Business Administration degrees from the University of California Berkeley Haas School of Business and Columbia Business School.
Opal serves as a member the Dean's Advisory Council for the College of Engineering at Carnegie Mellon University and as a member of the Board of YearUp Chicago. Opal currently resides in Evanston, Illinois.
---
Note to CSC Graduate Students
These lectures have been approved by the CSC Graduate Oversight Committee to count toward the required lectures for graduate students. Download seminar attendance form.
---
Watch the Talk