The Fidelity Investments "Leadership in Technology" Speakers Series Proudly Presents...
---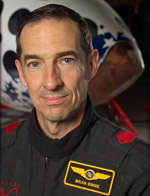 Brian Binnie
Test Pilot, SpaceShipOne
A Tale of Four Spaceships
Tuesday, October 18th, 6:00 PM; EB2 1231
---
A Tale of Four Spaceships
Abstract: The presentation will highlight the engineering and personal challenges of building an actual manned space program - all within real world constraints of limited budgets and exuberant marketing. Each vehicle also highlights how essential organizational leadership can be to the success of the program. The presentation is interlaced with humor, short videos and hopefully an eye opening view of what can be accomplished by small teams with big dreams.
---
Speaker Bio
A 20-year, combat proven, Naval Aviator and world record setting Test Pilot, Brian Binnie is the only Astronaut to have flown each of the four privately developed space ships in the U.S.

Test pilot for Burt Rutan's award winning SpaceShipOne. Brian flew the first and the last powered flights of the vehicle. In the process he opened up the vehicle's envelope to supersonic flight (the first time ever achieved in private aviation), beat the long standing altitude record of the X-15 and clenched the $10M X-Prize that became the igniting event of a now multi-billion-dollar industry.

Between Brown and Princeton Universities, he has three engineering degrees that include a BSc (Hons) in Aerospace Engineering, an MSc in Fluid Mechanics and Thermodynamics and an MSc in Aeronautical Engineering.

A highly decorated veteran, he served 20 years as a Naval Aviator that included 4 cruises, 500 arrested landings, combat operations during Desert Storm and is a distinguished graduate of the U.S. Navy's Test Pilot School.

With 5,300 flight hours in 79 different aircraft, helicopters and 4 space ships his experience in flight test spans over 40 years. He is published in many professional journals and has received numerous awards for his professional accomplishments including four world records; Aviation Week's Laureate Award, the Society of Experimental Test Pilot's highest honor – the Kincheloe Award and the aerospace industry's coveted Collier Trophy.
---
Note to CSC Graduate Students
These lectures have been approved by the CSC Graduate Oversight Committee to count toward the required lectures for graduate students. Download seminar attendance form.
---
Watch the Talk