The Fidelity Investments "Leadership in Technology" Speakers Series Proudly Presents...
---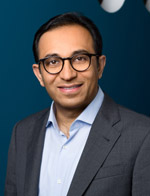 Amit Walia
EVP and Chief Product Officer, Informatica
Data Drives Business, Data Fuels Careers
Thursday, September 29th, 6:00 PM; EB2 1231
---
Data Drives Business, Data Fuels Careers
Abstract: Data is everywhere and it is changing every interaction companies have with their customers. With data undisputedly fueling a competitive advantage, leading organizations realize they must leverage data to transform their businesses. Today companies that use data to deliver exceptional customer experiences, build great products and drive operational efficiency are the winners in this new digital economy.

During this talk 2016, Amit Walia, Informatica's executive vice president and chief product officer, will talk more about the opportunities and challenges that data presents in our work and personal lives today and in the future. He will discuss the trends of big data, security, Cloud, AI and beyond, which are all powered by data.

Data has changed everything in every business around the world. The world has moved from a place where it was sufficient for data to drive manual automation, to an era where databases, apps and analytics helped deliver competitive advantage. Now, we are in the modern era of data, where it is fundamentally driving new business models. Those who embrace and use data to their competitive advantage will be the winners.

In this presentation, Amit will share his perspective about the future of data, how students, business leaders, staff and faculty will all be impacted by data and have the opportunity to transform that data into a competitive advantage for themselves and their organizations.
---
Speaker Bio
Amit Walia is the executive vice president and chief product officer responsible for product development, product management, product marketing and engineering. Previously Amit was the senior vice president and general manager for Informatica's Data Integration and Data Security business unit.

Prior to Informatica, Amit worked in leadership positions across a variety of functions at Symantec, Intuit and McKinsey & Company. He spent the earlier part of his career working for Tata Group and Infosys Technologies in India.

Amit holds a Master of Business Administration with honors in strategy and economics from the Kellogg School of Management, Northwestern University. Additionally, he received his Bachelor of Science with honors degree from the Indian Institute of Technology, Varanasi.
---
Note to CSC Graduate Students
These lectures have been approved by the CSC Graduate Oversight Committee to count toward the required lectures for graduate students. Download seminar attendance form.
---
Watch the Talk