The Fidelity Investments "Leadership in Technology" Speakers Series Proudly Presents...
---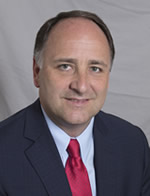 Tim McKnight
Chief Information Security Officer, GE
The Internet of Things - Place your Bets Now!
Tuesday, September 15th, 6:00 PM; EB2 1231
---
The Internet of Things - Place your Bets Now!
Abstract: As Chief Information Security Officer's strive to integrate security into business enabling processes, General Electric, a company renowned for its transformative strategy, is placing big bets on the Internet of Things. The marriage of big-data analytics and industrial engineering promises once unimaginable improvements in diagnostics, optimization and planning for GE customers. Tim will discuss how this transformation is happening at GE and what he is learning on this journey from a security, risk and business perspective.
---
Speaker Bio
Tim McKnight is Chief Information Security Officer for GE, where he is responsible for leading GE's global and diverse information security and IT risk strategy.

Prior to joining GE, Tim served as Executive Vice President of Information Security and Technology Risk for Fidelity Investments. In this role, Tim set the corporate information security and technology risk vision and strategy in key areas, including: governance; policy; awareness; project management; audit; assessment; incident response; operations; technical investigations; business continuity; and disaster recovery. He also served in various IT Security leadership roles at Northrop Grumman, BAE Systems and Cisco Systems.

Outside of the office, Tim is an active member in the cyber security industry. He has been chairman of the Internet Security Alliance since 2011 and has been a board member of the National Board of Information Security Examiners since 2010. He also spent time teaching graduate and undergraduate courses in digital forensics as an adjunct professor at Georgetown University.

Tim began his career at the Federal Bureau of Investigation (FBI), where he served as lead investigator for all National Infrastructure Protection Center matters, including high-tech crimes, corporate espionage, foreign counterintelligence and telecommunications fraud.

He received his bachelor's degree from Rutgers College.

---
Note to CSC Graduate Students
These lectures have been approved by the CSC Graduate Oversight Committee to count toward the required lectures for graduate students. Download seminar attendance form.