The Fidelity Investments "Leadership in Technology" Speakers Series Proudly Presents...
---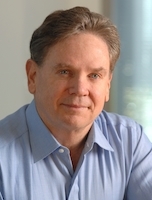 Tom Mendoza
Vice Chairman, NetApp
Lessons Learned on the Road - From a Start-up to the Fortune 500
Tuesday, March 25th, 6:00 PM; Hunt Library Auditorium
---
Lessons Learned on the Road - From a Start-up to the Fortune 500
Abstract: NetApp's Vice Chairman, Tom Mendoza, has been a key contributor to NetApp's growth from a start up to a Fortune 500 company. He also helped establish the culture that allowed NetApp to recently be named #3 on Fortune's Best Global Companies to work for. Join us to hear what enabled NetApp to become one of Silicon Valley's most successful companies.
---
Speaker Bio
Tom joined NetApp in 1994 and was responsible for sales until becoming president in 2000. In 2009 he became vice chairman.

Tom has given talks on the power of corporate culture and leadership all over the world to people in such diverse organizations as the U.S. Marine Corps, West Point, CIO forums, Oracle's Leaders Circle, and Stanford University. In 2009 he was the corecipient with NetApp Chairman Dan Warmenhoven of the Morgan Stanley Leadership Award for Global Commerce.

Tom holds a BA degree from the University of Notre Dame and is an alumnus of Stanford University's Executive Business Program. In September 2000 Notre Dame renamed its business school the Mendoza College of Business after an endowment made by Tom and Kathy Mendoza.
---
Note to CSC Graduate Students
These lectures have been approved by the CSC Graduate Oversight Committee to count toward the required lectures for graduate students. Download seminar attendance form.
---
Watch the Talk