The Fidelity Investments "Leadership in Technology" Speakers Series Proudly Presents...
---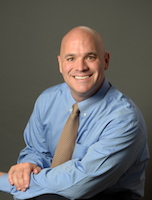 Victor Fetter
CIO, LPL Financial
Recognizing the Power of Technology to Unlock Value and Enable Dreams
Tuesday, February 25th, 6:00 PM; EB2 1231
---
Recognizing the Power of Technology to Unlock Value and Enable Dreams
Abstract: Technology innovations are enabling a new set of capabilities at financial institutions across America at a time when wealth among American's is approaching all-time highs. However, increasing regulation, market uncertainty and generational shifts introduce complexity and have made it harder than ever to earn the trust and confidence of the American public. Technology leaders are uniquely positioned to lead a transformation from deploying technology to reduce expenses and automating their business to leveraging technology to build consumer trust and confidence, and connect with clients in ways we could never imagine. During this session come explore how LPL, a trusted partner to 13,500 financial advisors and 700 financial institutions, is deploying technology as a competitive advantage, supporting entrepreneurs in their quest to provide independence advice to enable dreams come true.
---
Speaker Bio
As Chief Information Officer, Victor Fetter is the managing director of Business Technology Services at LPL Financial, the nation's largest independent broker-dealer based on total revenue. He is responsible for bringing to life the company's commitment to providing independent financial advice to millions of Americans. He is seen as a progressive leader in the industry, bringing together the people and processes necessary to deliver the best technologies for LPL Financial advisors, partners and employees.

Technology at LPL Financial is driven by a commitment of continuous innovation to provide proprietary technology to over 13,000 financial advisors and approximately 700 financial institutions. LPL's solutions are delivered through an integrated cloud-based offering that focuses on efficiency, accuracy and informed advice. Advisors and institutions benefit from leading advisory and account servicing, robust trading functionality, integrated mobile solutions, a streamlined office suite to support digital delivery and advanced risk management capabilities. These solutions are enabled by a back office suite that includes advanced workflow and collaboration capabilities, research and insights, enhanced by a growing business intelligence practice and a unified infrastructure platform.

Prior to joining LPL Financial in 2012, Mr. Fetter was vice president and chief information officer for Dell Online, where he led the digital transformation of Dell's approach to providing global, multi-channel solutions for consumers and commercial customers. His accomplishments include driving IT efficiency with a focus on increased innovation, delivering highly scalable infrastructure solutions, and enhancing sales and corporate systems-including the architecture of global online, mobile, and social commerce capabilities.

Earlier, Mr. Fetter worked at Mercer Human Resource Consulting, where he served as director of global applications development, chief information officer, and ultimately global chief information officer. He held previous positions at Hewitt Associates LLC and Electronic Data Systems.

Mr. Fetter has a Bachelor of Science in computer information systems from Spring Hill College in Mobile, AL. He, along with his wife, Heather, and four kids live in Charlotte, North Carolina. He also supports his passion for the health and safety of children in the community by serving on the board of Pat's Place, a Child Advocacy Center focusing the resources of public and private agencies in Mecklenburg County, North Carolina to achieve the best comprehensive outcome for abused children.
---
Note to CSC Graduate Students
These lectures have been approved by the CSC Graduate Oversight Committee to count toward the required lectures for graduate students. Download seminar attendance form.
---
Watch the Talk
Video accessible only to NCSU - Click here to view. Be sure to logout once finished.