The Fidelity Investments "Leadership in Technology" Speakers Series Proudly Presents...
---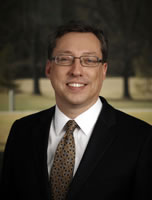 Robert Geolas
President & CEO, Research Triangle Foundation of North Carolina
The Research Triangle Park asks 'What great things can we do together?'
Tuesday, November 19th, 6:00 PM; EB2 1231
---
The Research Triangle Park asks 'What great things can we do together?'
Abstract:
The Research Triangle Park started out as a bold idea, a vision from North Carolina's leaders for the future of a struggling state. Over the last fifty years, the businesses, universities, and civic leaders who believed in RTP overcame daunting obstacles to make North Carolina a global leader. Today, RTP is home to more than 170 companies that employ more than 40,000 people. Its success helps improve access to education and jobs, creating opportunities for people across North Carolina to improve their quality of life. But our state faces new challenges; rising international competition and a changing economy threaten to once again leave North Carolina businesses and workers behind. Against this backdrop, RTP is reconnecting with North Carolina so we can reimagine our future – and ultimately redevelop the Park to lead North Carolina in the innovation economy. We now call on all North Carolinians to join us to go big, think big and do big things.
---
Speaker Bio
Robert T. "Bob" Geolas is President and CEO of the Research Triangle Foundation of North Carolina. Bob joined the Research Triangle Foundation in November 2011 and coordinates initiatives and efforts to ensure the Park remains at the forefront of technology and applied science. He leads the Foundation in achieving its mission of creating opportunities for all of North Carolina by repositioning RTP to respond to new realities and re-invent itself to meet the demands of the 21st Century.

Mr. Geolas is a national leader in the development of research parks. Recognized for his role in the creation of new urban models, he advocates for programmatically driven parks with strong relationships linking university, industry and government to advance economic development. A senior executive experienced in land planning and development, zoning, permitting, financing, negotiating and managing complex real estate projects, Mr. Geolas has built award-winning facilities and exciting, sustainable research communities. He has a specific expertise in the development of commons physical spaces on research parks that inspire collaboration and foster innovation. Among these are shared office, lab, and mixed use facilities, plazas, cafes, fitness centers, galleries, auditoriums, rooftop gardens and outdoor amphitheatres.

Prior to being named the President & CEO of the Foundation, Bob most recently served as Executive Director of the Clemson University International Center for Automotive Research (CU-ICAR) and Associate Vice President for Economic Development at Clemson University. Hired to take CU-ICAR from concept to reality, Mr. Geolas was responsible for the overall leadership and management of the 250-acre research park. This first of its kind global center brings together academic and industry leaders with emerging technologies to drive innovation in the transportation industry. Under his direction, the project matured from an undeveloped greenfield site to a recognized success story. In just seven years, CU-ICAR generated nearly $250M in investments, with another $500M in development, has announced more than 2,300 new high-wage jobs, and constructed over 760,000 square feet on site, with another 332,000 square feet in process.

CU-ICAR was awarded the 2009 AURP Emerging Science and Technology Park for North America and was recognized the same year by the National Academy of Sciences as one the five best global practices for Science and Technology Parks in the United States. In the past two years, the President of GE, the US Secretary of Energy and the US Secretary of Transportation have made public visits, highlighting the park's success. Early corporate partners include BMW, Michelin, SAE, Timken, Koyo JTEKT, American Titanium Works, and Proterra. A new 60,000 square foot Center for Emerging Technologies will open this spring, providing incubator and startup space to dozens of new technology companies, such as Sage Automotive Interiors.

As Associate Vice President at Clemson, Mr. Geolas is also responsible for economic development projects across South Carolina. Clemson programs are linked with over five-thousand acres of university property to research initiatives in energy, advanced materials, biotechnology and environmental technologies. In addition, these sites provide incubation facilities, such as the new biotech Innovation Center at the Clemson Research Park.

In his earlier career, Mr. Geolas served as top manager at the North Carolina State University Centennial Campus and Centennial Biomedical Campus in Raleigh, a project of more than 1,300 acres. During his tenure, Centennial became widely recognized as one of the premier research campus projects in the country. At his departure, Centennial Campus was home to nearly 60 private and government organizations employing more than 1,500 employees.

A graduate of NCSU, Mr. Geolas served in numerous political and governmental roles in North Carolina, including Executive Assistant to the Secretary of Transportation and Legislative Liaison to the Speaker of the House. In these roles, Mr. Geolas developed a unique understanding of political leadership and the skill set required to unite public and private sector interests.

From 2003 to 2009, Mr. Geolas served on the Board of Directors of the National Association of University Research Parks. In South Carolina, Mr. Geolas has served on the United Way Graduate Greenville Board, the Greenville Chamber of Commerce Board of Directors, the Greenville Convention and Business Board and has been recognized six years in a row as one of the top 50 business leaders in Greenville by Greenville Magazine.

Working in the Research Triangle, Mr. Geolas served on the Commission for a Competitive North Carolina, the Governor's Task Force for Regionalism, and the Governor's Policy Council. He was a member of The 50 Group, on the Board of Directors, Downtown Raleigh Alliance, and the Wake County Economic Development Board.

He and Mary, his wife, live with their four children in Raleigh, North Carolina
---
Note to CSC Graduate Students
These lectures have been approved by the CSC Graduate Oversight Committee to count toward the required lectures for graduate students. Download seminar attendance form.
---
Watch the Talk