The Fidelity Investments "Leadership in Technology" Speakers Series Proudly Presents...
---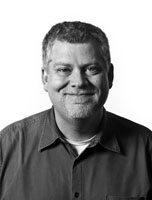 Curtis Brown
Chief Technology Officer, AOL
Get Big, Go Small: The AOL Micro Data Center
Tuesday, October 22nd, 6:00 PM; EB2 1231
---
Get Big, Go Small: The AOL Micro Data Center
Abstract: At AOL, the demand for scalability often competes with the need for cost savings, power efficiency and faster deployments. Given the complexity of AOL's technical systems this dilemma is not simply solved by cloud computing. Our micro data centers solve these problems and more.
---
Speaker Bio
As AOL's Chief Technology Officer, Curtis Brown leads all aspects of AOL's technology strategy, systems, platforms, engineering and external technology partnerships. He also plays a key leadership role in the overall strategy and product and service delivery for the company, while leading AOL's expansion of engineering excellence and technology talent across the globe. Brown previously served as Senior Vice President of Engineering and Chief Technology Officer of AOL's global advertising business, Advertising.com.

He is a technology leader with over 20 years of experience across a range of media, Internet and education-technology driven businesses and has an extensive background in building and managing large web sites and technical teams. An Internet pioneer Brown built and launched one of the first music e-commerce sites, MusicBoulevard/CDNow, back in 1995. He has held the title of CTO at Skymall, Oxygen Media, The Princeton Review, CTB/McGraw-Hill and Kaplan. Brown has lectured at Columbia University in the field of Executive Information Technology Management, served as a member of the IT Technology Advisory Board at the New School and the CTO Advisory Council for InfoWorld magazine and is a founding member of the New York City CTO Club.

A New York native, Brown graduated cum laude from New York University and has additional graduate studies in Psychology.
---
Note to CSC Graduate Students
These lectures have been approved by the CSC Graduate Oversight Committee to count toward the required lectures for graduate students. Download seminar attendance form.
---
Watch the Talk
Video accessible only to NCSU - Click here to view. Be sure to logout once finished.