The Fidelity Investments "Leadership in Technology" Speakers Series Proudly Presents...
---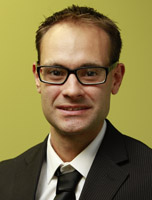 Mark Woodwell
Chief Software Engineer, Sageworks
Building a Business on Artificial Intelligence
Thursday, February 21st, 6:00 PM; EB2 1231
---
Building a Business on Artificial Intelligence
Abstract: People don't look at raw numbers and immediately make qualitative assessments. Professionals need more than digits and decimals to do their job well. Sageworks' patented expert system translates financial statement numbers into plain language assessments to help businesses make better decisions and better understand their financial information.
Mark Woodwell, Chief Software Engineer at Sageworks will discuss how the company's patented A.I. was conceived and developed in order to achieve its mission of helping businesses make better decisions.
---
Speaker Bio
Mark Woodwell is the chief software engineer at Sageworks, and has been with the company since 2004. He is principally responsible for the architecture, design, implementation, maintenance, and expansion of Sageworks' software products. Additionally, Mark plays a major role in leading the configuration and tuning of Sageworks' transactional and backup database systems and is involved in the ongoing hiring and training of new employees. Mark received both his bachelor's and master's degrees in computer science from North Carolina State University, where he graduated at the top of his class.
---
Note to CSC Graduate Students
These lectures have been approved by the CSC Graduate Oversight Committee to count toward the required lectures for graduate students. Download seminar attendance form.
---
Watch the Talk