The Fidelity Investments "Leadership in Technology" Speakers Series Proudly Presents...
---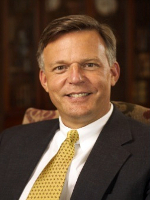 Bill Smith
President of Network Operations, AT&T
Leadership in a High Tech World
Thursday, February 16th, 6:00 PM; EB2 1231
---
Leadership in a High Tech World
Abstract: The world of communications has significantly changed in the last 10 years, driven by wireless and the internet advances. AT&T is a pioneer in this evolution. Mr. Smith will discuss how the technology has evolved through the years, how the regulatory and government policy progressed with these changes, and how leadership must adapt to deal with the human dimensions of a technical transformation.
---
Speaker Bio
Bill Smith, President AT&T Network Operations is responsible for all network related operations across the company's global service footprint. These responsibilities include the Global Network Operations Center, Mobility and Wireline Central Offices, Undersea Cable Infrastructure, Construction and Engineering with Wireless Field Operations, Core Installation and Maintenance, and U-verse Field Operations. He was appointed to his current position in March of 2008. His responsibilities were expanded to include Global Network Operations in January of 2010. Previously, he served as Executive Vice President - Shared Services, in charge of mass market and enterprise operations, corporate real estate, procurement, regional wireline planning, and business planning and integration. Mr. Smith began his career with the former BellSouth Corp. in 1979, and has held numerous positions in technology, operations, marketing and public policy. He was involved in BellSouth's advanced technology efforts, and was responsible for the company's DSL, Internet and wholesale business units. Also at BellSouth, he served as Chief Technology Officer, where he was responsible for setting the overall technology direction for BellSouth's core infrastructure. In that position, he was responsible for network and operations technology, Internet Protocol applications, next generation strategy, and BellSouth Entertainment, LLC. A native of Asheville, North Carolina, Mr. Smith graduated with honors from North Carolina State University at Raleigh in 1979, and is on the Board of Advisors for the Graduate School there. He and his wife, Robin, have three daughters.
---
Note to CSC Graduate Students
These lectures have been approved by the CSC Graduate Oversight Committee to count toward the required lectures for graduate students. Download seminar attendance form.
---
Watch the Talk