The Fidelity Investments "Leadership in Technology" Speakers Series Proudly Presents...
---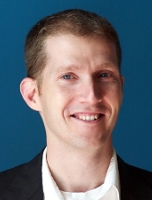 Joe Colopy
Founder & CEO, Bronto Software
From Code to Company: Lessons in Building a Software Company
Tuesday, January 17th, 6:00 PM; EB2 1231
---
From Code to Company: Lessons in Building a Software Company
Abstract: Joe will share lessons learned in building a company out of his spare bedroom ten years ago to a successful award-winning software company – entirely bootstrapped without any outside capital. Today, Bronto Software employs over 120 people in over 20,000 square feet on the American Tobacco Campus in nearby Durham. Bronto was recently named as NCTA's Software Company of the Year and as a TBJ Best Place to Work.
---
Speaker Bio
Joe Colopy is the Founder and CEO of Bronto Software, the leading marketing platform for over a thousand retailers and other commerce-focused companies to drive revenue through email, mobile and social campaigns. He has guided the strategic direction of Bronto from a start-up, borne out of his spare bedroom, to becoming one of the 100 fastest growing private software companies in the United States.

Joe originally hails from Akron, Ohio but has lived in a number of places. He earned a bachelor's degree in Computer Science from Harvard University and an MBA from the University of North Carolina at Chapel Hill. During his more adventurous days, he was a Peace Corps Volunteer in the Seychelles Islands and a teacher in Guayaquil, Ecuador. Prior to starting Bronto Software, he worked within Marketing at Red Hat.

---
Note to CSC Graduate Students
These lectures have been approved by the CSC Graduate Oversight Committee to count toward the required lectures for graduate students. Download seminar attendance form.
---
Watch the Talk