The Fidelity Investments "Leadership in Technology" Speakers Series Proudly Presents...
---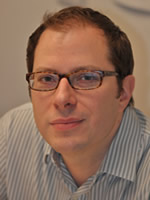 Chad Dezern
NC Studio Director, Insomniac Games
The Care and Feeding of Ideas
Tuesday, November 15th, 6:00 PM; EB2 1231
---
The Care and Feeding of Ideas
Abstract: Every project starts with big ideas and limitless optimism. Reality sets in during production; deadlines force scope changes, and great ideas end up on the cutting room floor. This presentation is about harnessing the excitement of the initial brainstorm. It's about learning when to push, when to let go, and what to do to get as many great ideas as possible into a shipped game.
---
Speaker Bio
Chad Dezern is the Studio Director at Insomniac Games' studio in Durham, North Carolina. He oversees all aspects of creative development and content creation, most recently for Ratchet & Clank: All 4 One. Chad started in the games industry in 1995 as a production artist. He joined Insomniac in 1998. Chad was the Art Director for Resistance 2, Ratchet & Clank Future: Quest for Booty, and Ratchet & Clank Future: Tools of Destruction. He was the Environment Art Director for Resistance: Fall of Man and Ratchet: Deadlocked. Before that he contributed production art to the Ratchet & Clank and Spryo the Dragon series. Chad serves on the Board of Directors for the Triangle Games Initiative and on the Advisory Board for North Carolina State's Digital Games Research Center. He graduated from the Savannah College of Art and Design in 1994 with a B.F.A. in illustration.
---
Note to CSC Graduate Students
These lectures have been approved by the CSC Graduate Oversight Committee to count toward the required lectures for graduate students. Download seminar attendance form.
---
Watch the Talk