The Fidelity Investments "Leadership in Technology" Speakers Series Proudly Presents...
---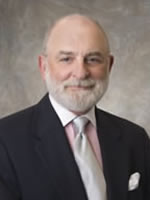 Santo 'Sandy' Costa
Author, Lawyer & Former President & COO, Quintiles
Humanity at Work: Attributes That All Great Leaders Share
Tuesday, March 15th, 6:00 PM; EB2 1231
---
Humanity at Work: Attributes That All Great Leaders Share
Abstract: Sandy Costa helps professionals in the workplace move from good managers to great leaders. In this talk, he redefines a better leadership model of widespread humanity at work that helps workers create meaning, excel and prosper. A proven global leader, an inspiring and interactive speaker and noted author, Sandy Costa has truly given us a new paradigm for experiencing each other.
---
Speaker Bio
Sandy Costa is a 30 year top level corporate leader. A veteran senior executive renowned for his insights and relational leadership practices honed in the years of explosive growth in the global pharma market. Among many facets of his watch at Quintiles Transnational Corp., he oversaw the successful integration of over 40 acquisitions managing revenues of $1.7 billion and increasing the employee base from 1000 in 9 countries to 20,000 in 31 countries.

A gracious and crowd inspiring speaker and author of the book, "Humanity at Work: Encouraging Spirit, Achievement and Truth to Flourish in the Workplace". Sandy has been recognized in a variety of ways for outstanding achievement. He is one of the only voices of experience today offering a pathway critical to the direction leaders are desperately searching for to solve costly employee dissonance and entrenched non-performance and disengagement issues in their corporate culture.

On the platform Sandy offers practical, tactical take- always for the mind and for the heart with warmth, wit, expert storytelling and teaching. Reviews for Sandy and the book all rave, "Sandy Costa upsets stereotypes of CEOs by his deep humanity, obvious affection for his people and hopeful insights for living... He is open to his own emotions, explicit in his human analysis and wise in his understanding of relationships... His life-view reflects a healthy understanding of God's creation and opens our hearths to seek how we might best serve in our leading"

During his career in the pharmaceutical industry Sandy chaired many corporate crisis management committees. He sits on a number of corporate boards and has chaired the boards of five companies. In his distinguished corporate career he has revolutionized the review process and skill sets for team relationship intelligence. Sandy is married and lives with his wife Jean in North Carolina. Together they support many charities for adults and children including the Duke Cancer Patient Support Program and the Duke Brain Tumor Program.
---
Note to CSC Graduate Students
These lectures have been approved by the CSC Graduate Oversight Committee to count toward the required lectures for graduate students. Download seminar attendance form.
---
Watch the Talk
Note: Access to this video presentation is restricted. If you are an NCSU user, please WRAP authenticate here and then return to this page to view the video. Non-NCSU users interested in viewing this presentation should contact Ken Tate at tate@csc.ncsu.edu.