The Fidelity Investments "Leadership in Technology" Speakers Series Proudly Presents...
---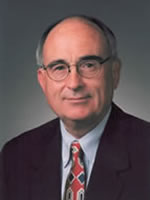 James 'Jim' Goodmon
President & CEO, Capitol Broadcasting Company
The FCC and Wireless Broadband Proposal - The Destruction of Broadcasting
Tuesday, April 12th, 6:00 PM; EB2 1231
---
The FCC and Wireless Broadband Proposal - The Destruction of Broadcasting
Abstract: The FCC wireless broadband proposal is anti-consumer and anti-intellectual. Goodmon will discuss the FCC wireless spectrum proposal and offer a new plan for the future of digital broadcasting
---
Speaker Bio
James Fletcher 'Jim' Goodmon grew up experiencing the world of broadcasting at his grandfather's knee. He was only a child when WRAL-TV won its license from the FCC, but he watched carefully as A.J.Fletcher tackled each new endeavor.

Goodmon attended Duke University but left for the Navy before obtaining a degree. While serving his term in Memphis, TN, he met and married Barbara Lyons and brought her back to Raleigh. Upon his return, Goodmon became Operations Manager at CBC.

In 1973 he moved up to Executive Vice President, in 1975 he became President and in 1979 he was named President & CEO, the position he still holds today. During this time, he has guided the growth of its radio and television holdings, along with such innovative businesses as satellite communications, the Internet, high definition television (HDTV) and high definition radio.

Known as a trailblazer and a pioneer, Goodmon explores new technology with fervor, seeking to bring the latest and best to the viewing public. He holds a fierce dedication to upholding the public interest; all CBC divisions not only meet but exceed industry requirements and standards.

Goodmon led CBC and its station into the digital age, beginning in the late 1990's when the FCC granted the first experimental HDTV license to WRAL-TV. He worked hard to set industry standards and to explore every possible use of the digital spectrum, launching a division to datacast over the air and many others.

When the FCC made a ruling to loosen media ownership regulations in June of 2003, Goodmon led the charge nationwide to fight against what he declared would be the death of localism. Once again, Capitol Broadcasting Company came on strong in Washington, DC. Called a rabble rouser in the press, Goodmon is nonetheless heralded as a champion for the small business owner and local ownership
---
Note to CSC Graduate Students
These lectures have been approved by the CSC Graduate Oversight Committee to count toward the required lectures for graduate students. Download seminar attendance form.
---
Watch the Talk