The Fidelity Investments "Leadership in Technology" Speakers Series Proudly Presents...
---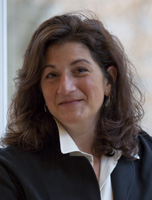 Teresa Spangler
Founder & CEO, The PlazaBridge Group
Re-Everything! How Can the U.S. Regain Leadership in Innovation?
Thursday, October 14th, 6:00 PM; EB2 1231
---
Re-Everything! How Can the U.S. Regain Leadership in Innovation?
Abstract: Innovation is a key catalyst for economic success and recovery. Working with some of the greatest brands, innovation guru's, hundreds of entrepreneurs, Teresa Spangler experiences daily examples of the breadth of human ingenuity to improve and create new solutions to social, economic, political, and technical challenges. The barriers to creating successful ventures are vast. What are early success signs? How do you know if you are moving things successfully forward? What team dynamics are needed to carry an idea to commercial success? What are the roles of the innovator, the entrepreneur, the investor and the company leadership in fostering a culture of success? What role does revenue have and when should you begin to think about revenue?

In this highly interactive presentation, Teresa Spangler uses creative and experienced based stories and uniquely entertaining methods to explore some of the causes to the U.S.'s decline in innovation, break down barriers that keep companies from realizing their full revenue and market potential, and make connections between thought, innovation and action.
---
Speaker Bio
Teresa Spangler, founder of PlazaBridge Group, is uniquely differentiated by her creative thought leadership. She has designed business models, routes to markets, company strategies as well as bridged the gap between products and services and customer purchasing behavior for better than 30 years. Teresa's experience includes growing companies as the entrepreneur, creating and launching new divisions, entering global markets and new market segments and executing these strategies to take companies to their next level of growth. She excels in brand strategies, creating revenue driving sales and marketing plans, and taking companies through the process of ideation, formation, and revenue acceleration.

Teresa created ground breaking driving & leading innovation programs and partnered with companies like Tom Peters Company where she worked with large enterprises including Coca Cola, Merck, and Home Depot. Additional past roles and responsibilities included building teams, new market growth strategies and executing these strategies to drive revenue from $0 to $500 Million. She held several senior executive positions at Red Hat, where she was responsible for pre and post IPO revenue growth. She was a co-founding member venture backed Technauts and was both a Regional Director and early member of the start up team for Picturetel Corporation, a leading tele-presence technology company.

Teresa's innovation extends beyond creating brands and start ups, she is author to a four book series, Game of Life and columnist to monthly publications including, Over the Edge in Women's Edge Magazine. Teresa holds a B.S. from Appalachian State University and Executive Leadership & Management certifications from Duke University and Harvard University. Teresa currently serves on the Board of The Council for Entrepreneurial Development, The NC World Trade Association and is Chair of the non-profit arts organization, Night of Dreams. Teresa's passion for the arts and music can be witnessed first hand when she performs as a singer/songwriter and guitarist.
---
Note to CSC Graduate Students
These lectures have been approved by the CSC Graduate Oversight Committee to count toward the required lectures for graduate students. Download seminar attendance form.
---
Watch the Talk