The Fidelity Investments "Leadership in Technology" Speakers Series Proudly Presents...
---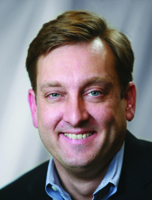 Stephen Wiehe
President & CEO, SciQuest
Emerging from the Ashes - The Evolution of Leadership
Thursday, November 4th, 6:00 PM; EB2 1231
---
Emerging from the Ashes - The Evolution of Leadership
Abstract: As the chief executive officer of a company that was forced to emerge from the ashes of the dot-com era with a much leaner workforce and a new business model, I have had to unlearn some of my most cherished leadership lessons. This is our story.
---
Speaker Bio
Since joining SciQuest as president and CEO in 2001, Steve has taken the company from an e-market exchange to the leading provider of on-demand eprocurement solutions for academic, healthcare and research-centric organizations. His vision for SciQuest's future led him to take the company private in 2004 and focus on creating a business-driven culture that provides organizations with a proven solution to achieve significant cost savings and advance their mission.

Steve has led the company to a compelling financial position by growing revenues and deeply instilling fiscal responsibility, making SciQuest the only profitable eprocurement provider. He focuses on guiding the company to achieve the highest levels of customer satisfaction through innovative product development and a dedicated professional services team.

Steve's early success as a technology entrepreneur continues to fuel his passion for leading companies to excellence. Prior to SciQuest, he served as senior director, strategic investments & mergers and acquisitions at SAS Institute in Raleigh, North Carolina. He joined SAS in June 2000, after SAS acquired DataFlux Corporation, where he served as president and CEO.

Before joining DataFlux, Steve was managing director/Europe and senior executive vice president for SunGard Treasury Systems, a division of SunGard Data Systems, Inc., and president and CEO of Multinational Computer Models, Inc., which was sold to SunGard Data Systems in 1998.

A well-seasoned executive with more than 20 years of experience, Steve started his career with the General Electric Company. He graduated from its renowned Financial Management Program with honors and became treasurer of GE Plastics. He is a graduate of the University of Kentucky.
---
Note to CSC Graduate Students
These lectures have been approved by the CSC Graduate Oversight Committee to count toward the required lectures for graduate students. Download seminar attendance form.
---
Watch the Talk