The Fidelity Investments "Leadership in Technology" Speakers Series Proudly Presents...
---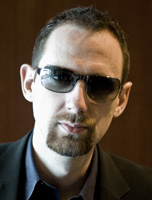 Alexander Macris
Co-founder, President & CEO, The Themis Group
Reset Generation: What Video Games Teach Us About the Next Gen Workforce
Tuesday, September 28th, 6:00 PM; EB2 1231
---
Reset Generation: What Video Games Teach Us About the Next Gen Workforce
Abstract: Business leaders across the country are grappling with the challenge of motivating and retaining the Gen Y workforce. The "Reset Generation" has grown up with computer and video games, and they think, play, and work differently from those who developed under a traditional paradigm. Join us for a discussion on leadership lessons gathered from a decade building and managing a videogame media company for and by the next-gen worker.
---
Speaker Bio
Alexander Macris is the CEO and President of Themis Group, Inc., a new media publisher based in Durham, NC, which he co-founded in August 2001. As president & CEO of Themis, Mr. Macris provides the company's strategic vision and serves as the Publisher and Editorial Director of its media properties, including its flagship publication The Escapist (www.escapistmagazine.com), the mouthpiece of the gaming generation. He is also co-founder and president of Triangle Game Initiative, the industry's trade association for the Raleigh-Durham area. As president of TGI, he has co-produced two Triangle Game Conferences, each with over 700 attendees and 40 participating companies, and helped usher in a tax credit benefiting game companies in North Carolina. Mr. Macris is a graduate magna cum laude of Harvard Law School (2000). Prior to Harvard, he graduated summa cum laude from Binghamton University with a B.A. in History. He has resided in Durham, North Carolina since 2001.
---
Note to CSC Graduate Students
These lectures have been approved by the CSC Graduate Oversight Committee to count toward the required lectures for graduate students. Download seminar attendance form.
---
Watch the Talk