The Fidelity Investments "Leadership in Technology" Speakers Series Proudly Presents...
---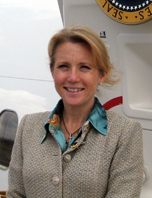 Theresa Payton
Former White House CIO
Do you want to be a cyber warrior?
Thursday, October 22nd, 6:00 PM; EB II 1231
---
Do you want to be a cyber warrior?
Abstract: These are desperate times globally. No company and no government is safe from cyber events. The best offense and defense is to establish executive awareness and to be innovative. If you do not want to be a cyber warrior, you do not have to, but just know that they are. This talk is designed to share lessons learned from experiences and to arm everyone in the audience with enough information to begin to fight the dark side of cyberwar.
---
Speaker Bio
Theresa Payton is a results-driven executive with over 18 years business and technology leadership experience. She spent 16 years delivering solutions to the financial services industry, specializing in business consulting, mergers & acquisitions, technology optimization, and operations. Theresa is currently the President and CEO of Fortalice, LLC which assists organizations in making appropriate "risk versus reward" tradeoffs, balancing productivity, mission critical activities, and information protection. Her main focus is cyber-defense strategies to protect critical infrastructure, for both the private sector and the government. She currently holds a Top Secret – Secure Compartmentalized Information Clearance. In addition to working with key clients in the private and public sector, Theresa is also Emeritus Faculty for the Security Executive Council which provides thought leadership, advice and consulting regarding information protection and defense strategies for the private and public sector.

From May 2006 until September 2008, she worked for the White House as the Chief Information Officer (CIO) of the Executive Office of the President (EOP). She was the first woman to hold this position. As the former White House CIO, Theresa led a team of employees and contractors to provide technology support for over 3,000 staff members at various locations. During her tenure as CIO, she implemented a "Good to Great" improvement strategy with industry best practices adapted for the government and the culture at the EOP.

Theresa started her career in Banking Technology in 1990 at Barnett Bank (now part of Bank of America) before joining First Union in 1995 (now part of Wachovia). During her time at both companies she played key leadership roles in the areas of consumer and commercial banking operations as well as self service delivery channels. She also worked for Bank of America from 2004-2006 as the technology executive in charge of two critical lines of business, the customer call centers and consumer credit risk.
Theresa graduated in 1989 cum laude with a Bachelor of Arts in Economics and Business Administration from Immaculata University. She completed her Master of Science in Management Information Systems (MIS), University of Virginia in 1990. She is a graduate of the Graduate School of Banking at LSU, Leadership North Carolina, and the Center for Creative Leadership. She also received her Champion certification in Six Sigma and Lean processes. She has been previously recognized as Charlotte's Woman of the Year by the Leukemia / Lymphoma Society and was named to Charlotte's "40 Under 40" listing of young professionals and one of five "Outstanding Young North Carolinians" in 2005. She was recently awarded the Charlotte Business Journal's "Women in Business" award.

Theresa is active in the Charlotte, North Carolina community and previously started and chaired a chapter of Women in Information Science and Engineering (WISE). She has also served on the Advisory Council for the Chamber of Commerce CIO Forum and is currently a board member of the Women Executives organization in Charlotte. Her favorite community project was starting a small scholarship fund called "Little Lambs" to help women afford quality daycare. She is also on the Advisory Council for BIG – Business Innovation Growth Council in Charlotte.

Theresa and her family reside in Charlotte, NC. She has been married to her husband, Chris, for 20 years and has two sons, Kieran (7) and Aidan (4), and a daughter, Maeve (7 months old).
---
Note to CSC Graduate Students
These lectures have been approved by the CSC Graduate Oversight Committee to count toward the required lectures for graduate students. Download seminar attendance form.
---
Watch the Talk