The Fidelity Investments "Leadership in Technology" Speakers Series Proudly Presents...
---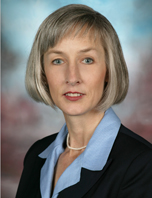 Dr. Diana Oblinger
President & CEO, EDUCAUSE
Uncommon Thinking for the Common Good
Thursday, January 29th, 6:00 PM; EB2 1231
---
Uncommon Thinking for the Common Good
Abstract: Information technology has a critical role to play in enabling "uncommon thinking for the common good." IT and collaboration may be the keys to addressing a spectrum of challenges facing higher education and society. This session links fundamental values such as openness and sharing, with the socio-technical system enabled by the Internet and looks at some of society's greatest challenges.
---
Speaker Bio
Diana Oblinger, president and CEO of EDUCAUSE, provides executive leadership and strategic vision for the nation's primary higher education technology association, encompassing nearly 2,300 colleges, universities, corporations, and associations. Oblinger formerly served as the EDUCAUSE vice president responsible for the association's teaching and learning activities and the EDUCAUSE Learning Initiative. She is also an Adjunct Professor of Adult and Higher Education at North Carolina State University. Previously, Oblinger held positions in academia and business: Vice President for Information Resources and the Chief Information Officer for the University of North Carolina system, Executive Director of Higher Education for Microsoft, and IBM Director of the Institute for Academic Technology. She was on the faculty at the University of Missouri-Columbia and Michigan State University, and she held the post of associate dean at the University of Missouri.

Oblinger serves on a variety of boards, including the National Science Foundation's Advisory Committee on Cyberinfrastructure, and serves on a variety of other boards and advisory groups. Dr. Oblinger has testified before the U.S. Senate Committee on Employment, Safety, and Training and the U.S. House of Representatives Subcommittee on Technology.

A frequent keynote speaker, Oblinger is also the co-author of the award winning What Business Wants from Higher Education. She is co-editor of seven books: The Learning Revolution, The Future Compatible Campus, Renewing Administration, E is for Everything, Best Practices in Student Services, Educating the Net Generation, and Learning Spaces. She is the author or co-author of dozens of monographs and articles on higher education and technology.

Dr. Oblinger has received several awards for teaching, research, and distinguished service. She holds three degrees from Iowa State University and is a member of Phi Beta Kappa, Phi Kappa Phi, and Sigma Xi.

---
Note to CSC Graduate Students
These lectures have been approved by the CSC Graduate Oversight Committee to count toward the required lectures for graduate students. Download seminar attendance form.
---
Watch the Talk