The Fidelity Investments "Leadership in Technology" Speakers Series Proudly Presents...
---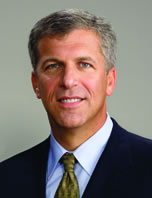 Jim Davis
Sr. VP & Chief Marketing Officer, SAS Institute
Executive Insights
Tuesday, October 14th, 6:00 PM; EB2 1231
---
Executive Insights
Abstract: Jim Davis will share insights on leading a technology company in an information-intensive global economy. He will also share strategies from his 2006 book, Information Revolution: Using the information Evolution Model to Grow your Business, and how organizations around the world are literally transforming companies around information.
---
Speaker Bio
Jim Davis, Senior Vice President and Chief Marketing Officer for SAS, is responsible for providing strategic direction for SAS products, solutions and services and presenting the SAS brand worldwide. Additionally, he oversees a number of operational units including Publications, Education, SAS OnDemand hosting, and Alliances and Channels.

Guiding the company's focus to be customer-driven, Davis helped lead the transformation of SAS from a tools provider to the software solutions provider it is today. He has done so by building industry-specific expertise into SAS' product management and product marketing teams, which research the marketplace and partner with R&D to hone customized solutions for each industry. He has overseen a dramatic increase in SAS' profile.

Also known for his industry leadership, Davis helped develop the Information Evolution Model and co-authored 'Information Revolution: Using the information Evolution Model to Grow your Business.' By outlining how information is managed and utilized as a corporate asset, the model enables organizations to evaluate their management of information objectively, providing a framework for making improvements necessary to compete in today's global arena.

With a degree in computer science from NC State University, Davis began his career as a software developer, providing systems for large newspaper publishers. He went on to manage software development and information technology for a large publishing organization in the southeastern U.S., and then to assume the general manager role for a regional business magazine in Charlotte, N.C. He then returned to technology leadership, directing IT operations for a global engineering society based in Research Triangle Park, N.C.

Davis joined SAS in 1994 as an enterprise computing strategist focused on IT issues. He later served as program manager for data warehousing, one of SAS' first global projects to incorporate customer feedback in the development process. It was in this role that he began to develop the model for continuous communication among engineers, marketing experts and customers that he champions today. From there he was promoted to Director of Product Strategy and then vice president of Worldwide Marketing before assuming his current role.
---
Note to CSC Graduate Students
These lectures have been approved by the CSC Graduate Oversight Committee to count toward the required lectures for graduate students. Download seminar attendance form.
---
Watch the Talk