The Fidelity Investments "Leadership in Technology" Speakers Series Proudly Presents...
---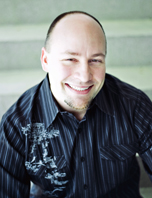 Michael Capps
President, Epic Games
Building the Perfect Team
Thursday, September 18th, 6:00 PM; EB2 1231
---
Building the Perfect Team
Abstract: Every great game starts with a great development team. Sadly, not every game begins with a great team that's ready to work, so you'll need to build that great team and hone it to perfection. This session starts with a discussion of patterns seen in successful game teams, then offers ideas on how to get a great team to full production capacity whether you're starting a sequel or starting from scratch. Special attention will be given to best practices for the big responsibilities of management, including hiring, firing, mentoring, performance reviews, immigration, and team morale.
---
Speaker Bio
Dr. Michael Capps is the president of Epic Games, Inc. based in Cary, NC. Epic has created multiple million-selling, award-winning titles in its "Unreal" series, as well as the 2006 Game of the Year "Gears of War," which has sold over 4.7 million copies. Epic is also responsible for the Unreal Engine, which is the underlying technology for a wide range of games including 2K Games' 2007 Game of the Year "BioShock" and BioWare's 2007 RPG of the Year "Mass Effect."

Epic's Unreal Engine 3 is the current holder and three-time consecutive winner of Game Developer magazine's Front Line award for 'Best Engine.' Epic was also recognized as 2006 Studio of the Year by Spike TV, 2006 Developer of the Year by Official Xbox Magazine and 2007 Large Company of the Year by the North Carolina Technology Association. Additional information can be obtained through Epic's Web site at http://www.epicgames.com.

Michael serves on the board of directors of the International Game Developers Association (IGDA), the world's largest nonprofit membership organization for game developers. He also serves on the Academy of Interactive Arts and Sciences (AIAS), which is charged with recognition of outstanding achievement in the entertainment software community.

Prior to entering the game industry, Michael served as a professor at the Naval Postgraduate School in Monterey, California. He specialized in defense and entertainment collaboration, virtual reality and computer graphics. For his work in these areas, he was one of 50 graphics pioneers interviewed for the ACM SIGGRAPH documentary, 'The Story of Computer Graphics.'

While at the Naval Postgraduate School, Michael was the producer, designer and lead programmer of the "America's Army" computer game. "America's Army" is a 3D military action game, sponsored by the U.S. Army, which allows online players to enter into a virtual Army infantry unit. This unique project has been covered by print and televised media around the world, and the game was accessed over 30 million times in the first week of its release.

A departmental honoree in mathematics and creative writing, Michael graduated summa cum laude from University of North Carolina at Chapel Hill. He holds master's degrees in computer science and electrical engineering from the UNC-Chapel Hill and MIT, and a doctorate in computer science from the Naval Postgraduate School.
---
Note to CSC Graduate Students
These lectures have been approved by the CSC Graduate Oversight Committee to count toward the required lectures for graduate students. Download seminar attendance form.
---
Watch the Talk