The Fidelity Investments "Leadership in Technology" Speakers Series Proudly Presents...
---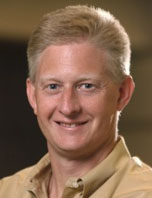 Douglas M. Balog
Vice President, IBM Modular and Blade Systems Development
Innovation Driven Leadership
Tuesday, January 29th, 6:00 PM; EB II 1231
---
Innovation Driven Leadership
Abstract: The ability to innovate, at both an individual and organizational level, has consistently driven leadership excellence from individuals to global enterprises. In this presentation, IBM Vice President of Modular & Blade Systems Development Doug Balog will share examples of where the ability to innovation has been the deciding factor between success and failure and his vision for where future innovation is necessary to drive leadership in the future of information technology
---
Speaker Bio
Mr. Douglas Balog, Vice President, IBM Modular and Blade Systems Development, is responsible for the technical direction and development of the IBM System x, BladeCenter, DS3000 and DS4000 storage, and Retail Store Solution product lines. Mr. Balog also serves as Chairperson of the industry Blade Server solution community – Blade.org.
Prior to his current assignment, Mr. Balog was Vice President and Business Line Executive for BladeCenter, with overall business and strategy responsibility. Previously, he was Vice President, IBM BladeCenter Development. In that role, he provided leadership for the technical direction and development of IBM's BladeCenter products and overall xSeries software.
Until mid-2004, Mr. Balog served as Vice President of IBM TotalStorage Open Software Development in the Systems and Technology Group, and was responsible for leading the development of open system storage software products and autonomic storage management infrastructure. At that time he was also the Senior Site Executive of the IBM San Jose, California facility.
Mr. Balog has also served as the Technical Executive on IBM's integrated account team for Charles Schwab Corporation from January 2001 to April 2002, where he focused on successfully deploying next- generation e-business infrastructure within the client's Web trading environment.
From the mid-1990s thru 2000, he worked extensively on the development and deployment of S/390 CMOS high-end servers, and led the design, innovation and strategic direction for OS/390. In 1998, Mr. Balog was named Director of S/390 software, and was responsible for the S/390 software business, including legacy workloads and new workloads on WebSphere and Linux for S/390.
Mr. Balog spent a year at IBM's headquarters in Armonk, NY, working on strategic investments in server and storage technologies, as well as IBM's investments in e-business.
Joining IBM in 1983 as a development programmer, throughout his career, Mr. Balog has held numerous positions in product development and management of servers, software, and storage, and has spent significant time working with IBM's Enterprise customers.
Mr. Balog graduated from Pennsylvania State University with a B.S. in Computer Science in 1983.

---
Note to CSC Graduate Students
These lectures have been approved by the CSC Graduate Oversight Committee to count toward the required lectures for graduate students. Download seminar attendance form.