Computer Science eNewsletter
Below is department related news, gathered from a variety of sources across campus, provided monthly for alumni, students, and friends of the Department of Computer Science at NC State University.
If you are a CSC alum and wish to be added to the email distribution list, click here. Corporate or individual friends of the department may be added to our distribution list by sending an email request to Ken Tate, Director of Development & External Relations for the NCSU Department of Computer Science.

---
August 29 , 2008
NC State Designated a National Center of Academic Excellence in Information Assurance Research
NC State University was recently selected by the National Security Agency (NSA) and the Department of Homeland Security (DHS) as one of the first 23 National Centers of Academic Excellence in Information Assurance Research (CAE-R). more
Power to the People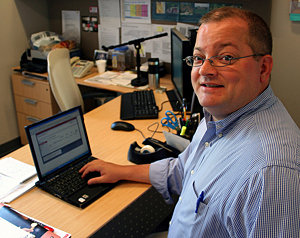 VCL is the wave of the future, according to IT experts at NC State. It's convenient, free and powerful for the users, and saves the university money by easing the demand placed on traditional computer labs in libraries and academic departments. more
Eight Faculty Receive 2008 IBM Faculty Awards
The NC State Department of Computer Science is very proud to announce that eight members of its faculty have been selected to receive 2008 IBM Faculty Awards totaling over $250,000 more
NC State Receives $2.5 Million NSF Grant To Study How Students Learn Science Through Computer Games
Led by Dr. James Lester, associate professor of computer science, this multi-disciplinary research project seeks to determine which artificial intelligence technologies and conditions contribute most effectively to learning processes. more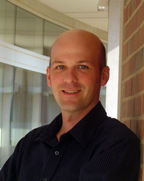 Breaux Receives "Preparing the Professoriate" Fellowship
Computer Science Ph.D. student, Travis Breaux, has been named one of 20 doctoral students selected as a 2008-09 Preparing the Professoriate Fellowship recipient through a University-wide competition, open to doctoral students who plan careers as research/teaching scholars at colleges and universities. more
Department Hosts Venezuelan Summer Practicum
As part of a effort to expand the department's International engagement, the NC State Department of Computer Science recently hosted a team of 16 students from the Universidad Católica Andres Bello (UCAB), Caracas Venezuela, for a two week summer practicum. more
Department Mourns Loss of Student - Demetris J. Adams more

'Red Means Go' in New Ad Campaign
"We have many great stories to tell, and this campaign will help us to tell them in a bold, confident, poised and compelling manner," says NC State Chancellor, James L. Oblinger more
ThePrivacyPlace.org 2008 Survey is Underway!
Researchers at ThePrivacyPlace.Org are conducting an online survey about privacy policies and user values. The survey is supported by an NSF ITR grant (National Science Foundation Information Technology Research) and was first offered in 2002. more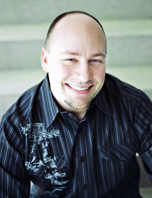 Fidelity Investments "Leadership in Technology" Series Presents Michael Capps
Please join us on September 18th at 6 pm in Lecture Hall 1231 EBII for our first fall talk in the Fidelity Investments "Leadership in Technology" Executive Speakers Series. Our special guest speaker will be Michael Capps, President of Epic Games. Under Capps' leadership, Epic has created multiple million-selling, award-winning titles in its "Unreal" series, as well as the 2006 Game of the Year "Gears of War," which has sold over 4.7 million copies. Epic is also responsible for the Unreal Engine, which is the underlying technology for a wide range of games including 2K Games' 2007 Game of the Year "BioShock" and BioWare's 2007 RPG of the Year "Mass Effect." His talk topic will be "Building the Perfect Team". more
Departmental Research Grants, Gifts, and Support
Cisco Systems and NetApp have both renewed their Super ePartner commitment to the department, donating $25,000 each in support of the Sr Design Center, the ePartners Program, and a number of related departmental programs and initiatives.
Blue Cross & Blue Shield of North Carolina (BCBS of NC) has donated $5,000 to the department in support the ePartners Program and student-led programs such as the Welcome Back Bash and the STARS initiative.
WingSwept Technologies has donated $6,000 to the department in support of the ePartners Program and student organizations.
Thanks to
Drs. Jasmine Adams
&
Marty Dulberg
for donating a new GE Microwave oven for use in the Student Lounge in 1203E EB2.
CSC Faculty / Staff News
Congratulations to Drs. George Rouskas and Rudra Dutta, as the book they edited along with Dr. Ahmed Kamal of Iowa State University, entitled "Traffic Grooming for Optical Networks: Foundations, Techniques and Frontiers" has been published by Springer. more
Dr. Harry Perros, Alumni Distinguished Graduate Professor, has been a busy ambassador for the Service Science, Management and Engineering (SSME) curriculum this summer, delivering two keynotes: one at the Knowledge Management in Organizations (KMO) 2008, in Vaasa, Finland, in June, and the other at TEMU 2008, in Crete, Greece, in July.
Dr. Annie Antón, professor of computer science, was recently featured in an alumni video shown to all incoming freshmen and their parents during Georgia Tech's Freshman Convocation.
Carlos Benavente, system programmer, has been named Interim IT Manager for the department while a search is conducted for a permanent hire.
The Office of Graduate Programs is very pleased to welcome Kelly Michels as their new admissions specialist and counselor.
Ginny Adams King
, administrative support specialist for the department for the past five years, has accepted a new role within CALS. Her last day with CSC will be September 2nd. She will be greatly missed, but we wish her the best in her new role!
CSC "Jobs List"
If you are a CSC student or alum and would like to receive an automatic email notice whenever new postings are activated on the CSC online jobs board, you are invited to subscribe to the cscjobs list. We may also use the list to announce career fairs, company campus visits & info sessions, and other career related events and activities. This is an "opt-in" list, so you must subscribe to receive the notices. Students can subscribe via the Subscribe Interface at http://lists.ncsu.edu/cgi-bin/mj_wwwusr (type cscjobs in the Mailing List box and press Search) or by sending an email to: mj2@lists.ncsu.edu (leave Subject Line blank), in the body of the message type subscribe cscjobs, and then send your message. For more information about subscribing please check http://lists.ncsu.edu/.