CSC News
August 13, 2008
Power to the People
By David Hunt – NC State News Services
Within weeks of completing his master's degree in advanced analytics at North Carolina State University,
Arren Fisher
scored a job in data analysis at the Laboratory Corporation of America.
"It involves predictive modeling," Fisher explains. "In layperson's terms, super duper data mining."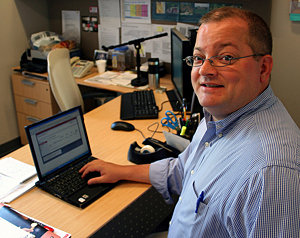 Despite the tight national economy, Fisher (shown here) and his classmates are getting lots of job offers because they're experienced users of the advanced software programs that marketing firms utilize to predict consumer behavior. But they didn't have to book time in a computer lab to use the software. They had an entire university computer lab – with hundreds of advanced programs – available on their personal computers and laptops at any hour of the day or night.
The system – called the
Virtual Computing Lab
– is the wave of the future, say the information technology experts at NC State. It's convenient, free and powerful for the users, and saves the university money by easing the demand placed on traditional computer labs in libraries and academic departments.
The way the virtual system works is simple. In Fisher's case, he logged onto the system almost every day during the 10-month master's program, connecting to the virtual lab over a broadband Internet connection using his laptop. Once he was logged on, Fisher used SAS Enterprise Miner 5.2, the industry standard for crunching data, to work on his class assignments. When he was done, he saved his results to a thumb drive and logged off.
A program like Enterprise Miner requires a fast computer with lots of memory and processing power. But that didn't affect Fisher. The Virtual Computing Lab ran the software for him, using the system's high-speed processors.
That, says
Dr. Henry Schaffer
, is the genius of the system. Schaffer, professor emeritus of genetics and biomathematics at NC State, coordinates special information technology projects for the university. He likes to demonstrate the power of the Virtual Computing Lab by logging on with an older – and decidedly wimpy – Apple iBook.
After entering his user name and password, Schaffer orders up Enterprise Miner running on Windows XP. In seconds, the familiar Windows start-up chime rings and the Windows XP logo appears on the iBook screen. From inside Windows, Schaffer opens the statistical program and begins entering numbers.
"Now the demo gets boring," he says. "Now it can do what any computer can do."
Even though Enterprise Miner doesn't come in a Mac-compatible version, it runs flawlessly on the iBook. It doesn't conflict with the Apple operating system because it isn't actually running on the iBook, it's running on a remote server somewhere deep inside a data center in the Administrative Services Building on campus.
Schaffer's colleagues,
Josh Thompson
and
Aaron Peeler
of the university's Advanced Academic Computing Initiatives and
Dr. Mladen Vouk
, associate vice provost for information technology and head of the Department of Computer Science, designed the system five years ago to help solve a problem in the College of Engineering.
"In the engineering labs they had about 60 different programs loaded onto every computer and everything was conflicting with everything else," Schaffer explains. "We didn't have high-flying dreams, we just did what was needed."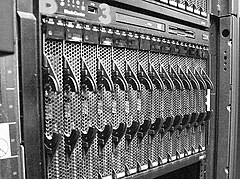 The team took some IBM computers left over from a grant project and put them in racks. Then they wrote computer code to enable engineering students and faculty to use the computers remotely over an Internet connection. The computers automatically load only the programs needed for each session, thus avoiding software conflicts.
Almost immediately, the team realized they'd developed a system that could be scaled up to work across campus and across the state. They launched a pilot program to test whether all the university's undergraduates, graduate students and faculty researchers could share a system without overloading it – they can – and then invited other universities to try it out.
East Carolina University, North Carolina Central University and UNC Greensboro have all added hardware and users to the mix, and students at Wake Tech Community College got their first opportunity to use the Virtual Computing Lab last semester.
The results have been impressive. Students and faculty logged into the system more than 50,000 times last semester and usage is expected to continue to grow. NC State will triple the number of computers in the system this fall thanks to a $1 million grant from IBM and a donation of 1,000 computers by Intel.
"We see no limit," Schaffer says.
Dr. Sarah Stein
, assistant vice-provost for special projects in the Office of Information Technology, believes the Virtual Computing Lab could revolutionize K-12 education in North Carolina. To prove it, the university is making the technology available to public educational institutions free of licensing fees.
Eventually, Stein says, computer hubs running the system could be set up in communities across the state. Then, any student or school with a broadband Internet connection could log on and use advance computer programs, even on the older, slow computers found in many classrooms and school libraries.
"If you go down to the K-12 level, most school districts do not have the technical support to maintain computer labs with new, high-speed machines," she says. "With the Virtual Computing Lab, it doesn't matter what the user's computer capabilities are. This is an extraordinary opportunity for NC State to share the value of this innovation."
The potential is easy to see. For students in small, rural school districts to have access to advanced computer programs like AutoCAD, MATLAB and SAS Enterprise Miner while still in high school could help improve their access to higher education and career opportunities.
"This could make an excellent argument in the legislature as to why we need to connect the state," Stein says.
Related Links:
Virtual Computing Lab
Office of Information Technology
Institute for Advanced Analytics
Return To News Homepage