CSC News
August 29, 2008
Breaux Receives "Preparing the Professoriate" Fellowship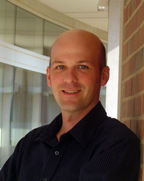 Computer Science Ph.D. student,
Travis Breaux
, has been named one of 20 doctoral students selected as a
2008-09 Preparing the Professoriate Fellowship
recipient through a University-wide competition, open to doctoral students who plan careers as research/teaching scholars at colleges and universities.
Preparing the Professoriate is a program that gives faculty and doctoral students the opportunity to engage in a significant mentoring activity for an academic year. The program sponsors nine workshops for participants and their mentors throughout the academic year illuminating various aspects of college/university teaching.
In conjunction with his Faculty Mentor,
Dr. Matt Stallmann
, Breaux will develop a detailed plan for the PTP year, which covers two semesters: an observation semester and a teaching semester.
The program is a central component of NC State's attempt to enrich and improve the way in which graduate students are trained at this University by providing students with a hands-on teaching opportunity under a distinguished faculty mentor who is recognized for his/her teaching skills.
Participation in this program is a requirement for all NC State GAANN Fellows, and each student receives a $1,000 stipend.
For four of the last five years, a computer science graduate student has been selected for this highly competitive award. Previous winners include
Claris Castillo
,
David Wright
and
Sibin Mohan
.
Congratulations to Travis and all the program participants!
For more information on the Preparing the Professoriate program, visit its
web site
.
~forcina~
Return To News Homepage