CSC News
August 25, 2008
Department Hosts Venezuelan Summer Practicum
As part of a effort to expand the department's International engagement, the NC State Department of Computer Science recently hosted a team of 16 students from the
Universidad Católica Andres Bello (UCAB), Caracas Venezuela
, for a two week summer practicum.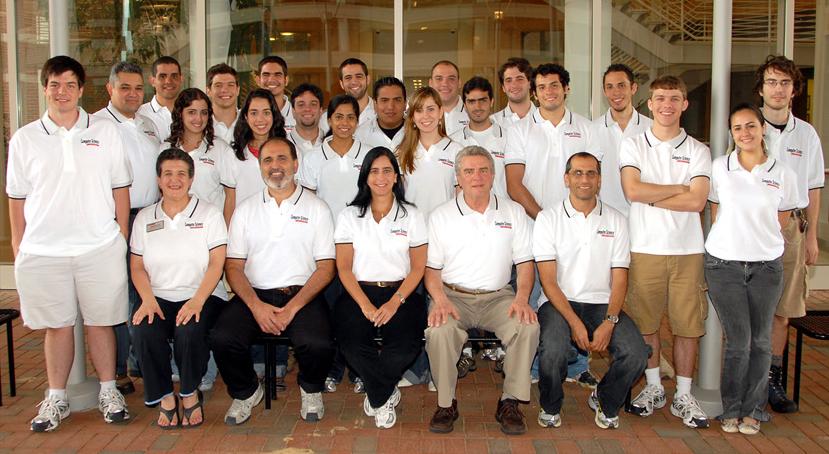 During the practicum, the students (shown here in photo by Roger Winstead) attended lectures and lab sessions every day, with a focus on software development for wireless sensor systems. At the end of the two weeks, the students demonstrated their knowledge with poster presentations of their projects for the benefit of computer science faculty and students.
Outside of the classroom, the team participated in several special activities and events, including attending a tour of the Dead Sea Scrolls Exhibit; a tour of N.C. State, Duke University and UNC-Chapel Hill campuses; a seminar given by an Insight Racing Representative about DARPA; and a special visit to the Research Triangle Park to tour
NetApp
and
Cisco Systems
facilities.
This is the second consecutive year the department has host the practicum.
"I think that this practicum is a very important experience for our students, and also for [the N.C. State Department of Computer Science]," said
Susan Garcia
, department head for Informatics at UCAB. "I hope this relationship is maintained and we will be able to add improvements year after year."
The faculty and students who served in making this practicum successful include:
Dr. Robert Fornaro, Margaret Heil, Ken Tate, Marhn Fullmer, Douglas McCLusky, Nathan Green, Kavya Mallesh,
and
Drew Boyuka
.
To view candid photos from the Venezuelan Summer Practicum, visit
here
.
~forcina~
Return To News Homepage