Graduate Program - Future Students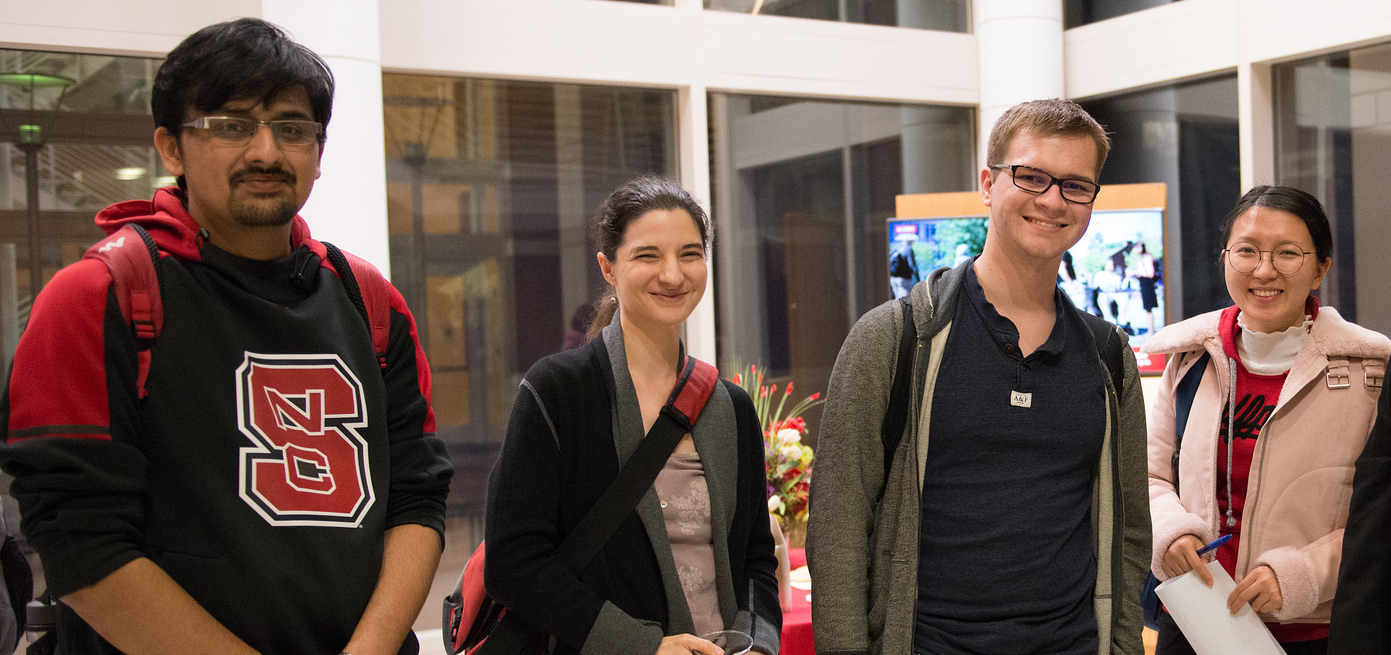 Why Choose the Graduate Program in Computer Science at NC State?
You already know about our reputation as a top-notch technology school. But you may not know how we earned that reputation. Our students are some of the most competitive in the nation because we provide these advantages:
OUR FACULTY. Here at NC State, you can study under some of the world's leading minds in the computer science field. Our faculty include 23 recipients of the prestigious National Science Foundation (NSF) CAREER Award (which go to the nation's outstanding young faculty), two Alumni Distinguished Professors, 11 members of the NC State Academy of Outstanding Teachers, six IEEE Fellows, a member of the National Academy of Engineering, a member of the National Inventor's Hall of Fame, and an Emmy award winner! Moreover, many possess extensive industry experience, and they are as concerned with their students' success as they are with their own. With a strong diverse faculty, our students have role models and mentors to help them break new ground and achieve success.
OUR FACILITIES. Raleigh, the state capital of North Carolina, is home to NC State University and is consistently rated as one of "America's Best Places to Live." The Computer Science Department is housed in Engineering Building 2 (EB2), our $41 million, 210,000 square foot, state-of-the-art teaching and research facility that opened in 2006. Equipped with a host of multimedia tools in every classroom, EB2 houses eight research centers and more than 46 teaching and research laboratories and groups. Students enjoy a variety of comfortable lounges and gathering spaces, as well as an on-site Port City Java café.
OUR LOCATION. Adjacent to the University's historic Main Campus, we're located on Centennial Campus, an award-winning 1,130-acre site that is home to over 100 large and small companies, government agencies and NC State research and teaching facilities. So you'll have access to some of the best resources and internships in the area. In fact, we're the only university that enables you to study topics like open source software—and then walk across the street to your internship at one of the area's leading technology companies, where you apply what you've learned. Or, you can travel just a few miles down the road to the Research Triangle Park, also known as RTP. A technological mecca of the East Coast, RTP combines the needs and resources of area industry with the teaching and research capabilities of NC State University, Duke University and the University of North Carolina at Chapel Hill. The payoff? You graduate with invaluable experience that can land you a great job right after graduation.
OUR VALUE. NC State was recently named the nation's 6th Best Overall Public University Value by U.S. News & World Report, the 21st best value among all public colleges and universities by Kiplinger, and made Princeton Review's 2010 list for top 50 best values among colleges and universities. NC State's Masters of Computer Science degree was ranked #3 in GetEducated.com's most recent Top Ranked Best Buys in Online Masters Degrees in Computer Science & IT. In 2013, the U.S. News & World Report ranked NC State 9th in the nation for online graduate programs in computer information technology. Consider that computer science related jobs dominate CNN Money.com's annual list of the 20 highest paying jobs, that CareerCast.com ranked 'software engineer' as its top job in 2012 based on a variety of factors including salary, stress levels, hiring outlook, physical demands, and work environment, and that NC State graduates are among the most desired by recruiters, according to the Wall Street Journal. Even during challenging economic conditions, demand for our computer science graduates has remained extremely strong, with May 2012 starting salaries averaging over $60,000 for undergrads and over $89,000 for our master's graduates (many exceeding $100,000).
To learn more about career outcomes of our recent graduating class, see the Computer Science Graduate Program Employment webpage.