Graduate Program - Future Students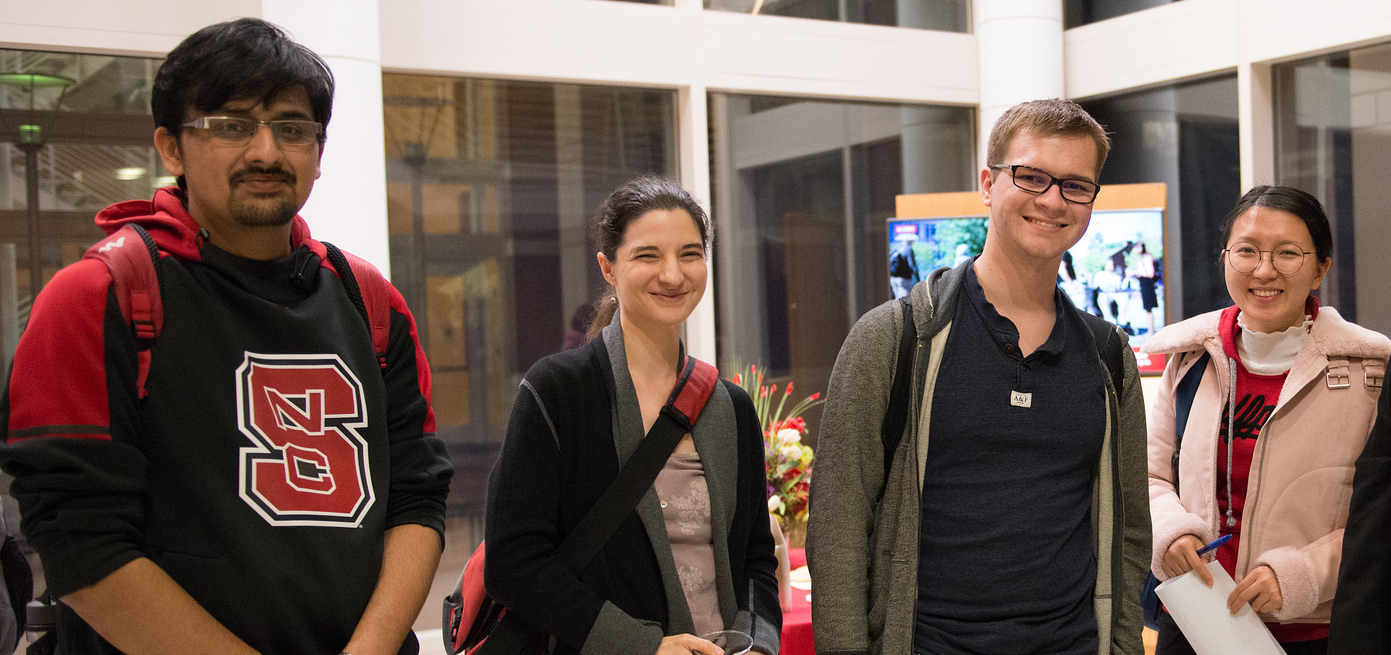 Why Choose the Graduate Program in Computer Science at NC State?
You already know about our reputation as a top-notch technology school. But you may not know how we earned that reputation. Our students are some of the most competitive in the nation because we provide advantages you won't experience together anywhere else.
Calculating minds converge.
OUR COMMUNITY. Here at NC State, you can study under some of the world's leading minds in the computer science field. Our faculty include 31 recipients of the prestigious National Science Foundation (NSF) CAREER Award (which go to the nation's outstanding young faculty), two Alumni Distinguished Professors, 12 members of the NC State Academy of Outstanding Teachers, 10 IEEE Fellows, 2 ACM Fellows, a member of the National Academy of Engineering, a member of the National Inventor's Hall of Fame, and an Emmy award winner! CSC faculty are recognized leaders within interdisciplinary research that spans the spectrum of computer science. Our department is proud to prove that diversity leads to greater innovation, having been home to graduate students from 36 countries. One of every four graduate students is female, four of every five are international, and we employ more tenue-track female faculty than almost all of our U.S. peer institutions. We're committed to building a diverse community of research scholars learning from faculty who serve as role models and mentors to help them break new ground and achieve success.
A place to go places.
OUR LOCATION. Raleigh, the state capital of North Carolina, is home to NC State University and is consistently rated as one of "America's Best Places to Live." Raleigh might be one of the nation's most popular places to live, but that isn't even our biggest brag. Adjacent to the University's historic Main Campus, we're located on Centennial Campus, an award-winning 1,130-acre site that is home to over 100 large and small companies, government agencies and NC State research and teaching facilities. You'll find yourself in an innovation incubator of public and private organizations operating across countless science and engineering disciplines and industries and have access to some of the best resources and internships in the area. In fact, we're the only university that enables you to study topics like open source software—and then walk across the street to your internship at one of the area's leading technology companies, where you apply what you've learned. If that wasn't enough, only 20 minutes away is the nation's largest research park, Research Triangle, a dynamic regional hub that's global in reach – one of the greatest concentrations of advanced industry and technology in the world. Our program's high-profile presence within this community means we are a top source of employees for many of the largest and best known IT companies.
The only limits are your imagination.
OUR VALUE. At NC State we're proud of what our people are thinking and doing and what our resources afford them. Others take notice as well, with recent rankings naming NC State #1 worldwide for computer science education research and #1 nationally for our online master of computer science program. During their time here, our students expect to learn and work with some of the best in the discipline, but they can also expect to capitalize on that experience to realize extraordinary career opportunity beyond. Even during challenging economic conditions, demand for our computer science graduates has remained extremely strong, with starting salaries averaging over $79,000 for undergrads and over $116,000 for our master's graduates. To learn more about career outcomes of our recent graduating class, see the Computer Science Graduate Program Employment webpage. Visit the CSC News webpage for the latest from our department.