CSC eNewsletter - September 2017
---
Join us in Celebrating 50 Years of Computer Science at NC State

Let the celebration begin! From a retro concert to a special showing of The Imitation Game on the Engineering Oval to a very special 50th Year Technical Symposium & Reception at Hunt Library, there is something for everyone. Dr. Laurie Williams, interim department head, cordially invites all alumni, students, partners, present and former faculty and staff, and friends of the department to join us this month as we celebrate '50 Years of Computer Science @ NC State'! more

---
Kremer Joins CSC Staff as Director of Development
The Department is excited to announce the addition of Kyle Kremer as Director of Development, a new role in which he will be responsible for engagement and major gift cultivation for the department's 9,000+ alumni. Kremer is a 2009 graduate of Bowling Green State University. Prior to joining NC State, he was Associate Director of Annual Giving for The Fuqua School of Business at Duke University. more
---
Best Paper Award Presented at IEEE Sarnoff Symposium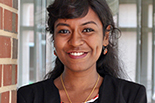 Congratulations to NC State Computer Science PhD student Angelyn Arputha Babu John on winning the Best Paper Award at the 38th IEEE Sarnoff Symposium held in Newark, NJ on September 18-10, 2017. more

---
Ford Selected to Attend NextProf Future Faculty Workshop
Congratulations to Denae Ford, a PhD student in the NC State Department of Computer Science, on being selected to participate in the 2017 NextProf Fall Engineering Workshop held September 26-29, 2017 at the University of Michigan. more
---
Best Paper Award Presented at PST 2017
Congratulations to NC State Computer Science PhD students Karthik Sheshadri and Nirav Ajmeri, and Dr. Jessica Staddon, adjunct professor of computer science at NC State, for winning one of two Best Paper Awards at the 15th International Conference on Privacy, Security,and Trust (PST) held in Calgary, Alberta, Canada, August 28-30, 2017. more
---
Welcome New Student Ambassadors!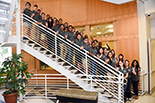 The Computer Science Department is pleased to welcome seventeen new undergraduates to our talented group of Computer Science Student Ambassadors. Our Ambassadors play a key role in the department's outreach efforts, and are often the first point of contact for many visitors to NC State. Last year, CSC Ambassadors volunteered more than 754 hours of service engaging visitors at Open Houses, leading weekly tours for future students and their parents on 'Visit the Campus' days, serving as hosts and guides for countless departmental events, and even writing personal notes to all computer science intended accepted freshmen. more

---
NC State University Powers the Wake County Economy
Raleigh-based NC State University packs a powerful punch. A 2015 economic-impact study, commissioned by the UNC System, found that it added about $6.5B to the state's economy during the 2012-13 fiscal year. That includes $4.8B for the Triangle. But Wake County was the real winner, seeing $3.3B of it. That's equivalent to about 6% of the county's gross regional product. more
---
Engineering Building Oval Update
NC State University engineers continue to change the world through groundbreaking research that solves society's greatest challenges. Our students benefit from a hands-on educational experience integrating research and education that prepares future generations of leaders and fuels the high tech economy of North Carolina and the nation. The Engineering Building Oval (EB Oval) is the crucial next step in the College of Engineering's move to Centennial Campus, providing critical infrastructure that allows faculty members and students to leverage the power of convergence across disciplines in an atmosphere unmatched anywhere in the nation. more
---
Fidelity Investments "Leadership in Technology" Series Presents Mike Walsh

Please join us on October 24, 2017 at 6 pm in Lecture Hall 1231 in EB2 for our 2nd of three fall 2017 talks in the Fidelity Investments "Leadership in Technology" Speakers Series. Our special guest speaker will be Mike Walsh, CEO of LexisNexis Legal & Professional. His talk topic will be "Advancing the Rule of Law." more

---
StateView Hotel to Open October 1st
Opening Oct. 2017 on Centennial Campus, the StateView Hotel features 164 rooms, a signature restaurant and bar, fully-equipped business and fitness centers, more than 10,000 square feet of meeting space and outdoor event terraces, as well as an outdoor pool and reception area overlooking Lake Raleigh. more
---
Departmental Gifts & Research
Red Hat has donated $25,000 to the department in support of the ePartners Program.
Capital One has donated $15,000 to the department in support of the ePartners Program.
Spirent has donated $5,000 to the department in support of the ePartners Program.
Pivotal has donated $5,000 to the department in support of the ePartners Program.
Republic Wireless has donated $2,500 to the department in support of the ePartners Program.
ROI Revolution has donated $2,500 to the department in support of the ePartners Program.
Lenovo has provided an additional $20,000 to support Dr. Arnav Jhala's research project entitled "TrackWhere: An App for Tracking and Visualizing Communication Across Teams During Product Lifecycle."
Dr. Xipeng Shen was awarded $22,500 by IBM Canada Limited for his most recent project entitled "Cognitive Computing-Based Compilation." more
Dr. Alessandra Scafuro has been awarded $249,922 by the National Science Foundation (NSF) to support her research proposal entitled "A Broad Treatment of Privacy in Blockchains." more
Drs. Emerson Murphy-Hill and Sarah Heckman have been awarded $265,853 by the National Science Foundation (NSF) to support their research proposal entitled "Enabling Scalable and Expressive Program Analysis Notifications." more
---
CSC Wolf Bytes
Congratulations to Monique Morrow, CSC Strategic Advisory Board Chair, for being selected as this winner of the 2017 Henley & Partners Global Citizen Award. Each year, Henley & Partners honors an inspirational global citizen who has made an extraordinary contribution towards improving the global community. Morrow is being recognized for her commitment to progress the global cause of statelessness, her tireless advocacy for a human right to identity, and her visionary and transformational project - the Humanized Internet. She is being recognized as a "pioneer thinker focused on the amazing opportunities of an hyper-connected world and an internet serving the purposes of peace and integration." She will receive the award in Hong Kong in November at the Global Residence and Citizenship Conference.
---
Follow the Department on Facebook, LinkedIn, and Twitter!

Alumni, students, faculty, staff, and corporate partners of the NC State Department of Computer Science, interested in networking to foster collaboration, entrepreneurship, partnerships, career development and professional growth are invited to follow us on Facebook, LinkedIn, and Twitter.

---
Personalized Job Search Agent in ePack
If you are a CSC student or recent graduate (within 12 months post-graduation) and would like to receive email notifications when new jobs are posted on ePack matching your profile, you can set up your own customized job search agent to receive just the postings you desire (intern vs. full time, etc). For a short video tutorial on how to create your own personalized job agent, click here.
The Alumni Association has partnered with the University Career Development Center to make ePACK available to NC State alumni. If you are a current Alumni Association member, update your online profile by visiting the Wolfpack Connect (alumni directory) and click on the 'Update My Info' tab on the upper right side of the page. Select the 'Career Connections' tab and then choose 'yes' beside the question, 'Do you want access to ePACK?'
To access ePACK you must be a member of the Alumni Association and you must be an alumnus/alumnae of NC State. If you are not a member of the Alumni Association, you can join online. Once you have received an email confirming your membership, you will be able to register for access to ePACK.
Questions: Contact Manager of Alumni Career Services, Anna Velleggia at anna_velleggia@ncsu.edu
Sponsors
This eNewsletter is sponsored for the 2017-18 academic year by ePartner BCBS of NC