CSC News
September 11, 2017
Best Paper Award Presented at PST 2017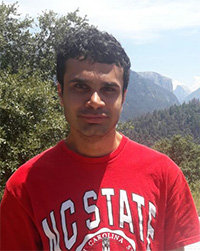 Congratulations to NC State Computer Science PhD students Karthik Sheshadri (pictured at right) and Nirav Ajmeri, and Dr. Jessica Staddon, adjunct professor of computer science at NC State, for winning one of two Best Paper Awards at the 15th International Conference on Privacy, Security,and Trust (PST) held in Calgary, Alberta, Canada, August 28-30, 2017.
The winning paper is "No (Privacy) News is Good News: An Analysis of New York Times and Guardian Privacy News." The abstract follows:

Privacy news influences end-user attitudes and behaviors as well as product and policy development, and so is an important data source for understanding privacy perceptions. We provide a large scale text mining of privacy news, focusing on patterns in sentiment and keywords. This is a challenging task given the lack of a privacy news repository and a ground truth for sentiment. Using high-precision data sets from two popular news sources in the U. S. and U. K., the New York Times and the Guardian, we find negative privacy news is far more common than positive. In addition, in the NYT, privacy news is more prominently reported than many world events involving significant human suffering. Our analysis provides a rich snapshot of this driver of privacy perceptions and demonstrates that news facilitates the systematization of privacy knowledge.
To read the award-winning paper, click here.
The 15th International Conference on Privacy, Security and Trust (PST) continues the tradition of bringing together researchers around the three themes of privacy, security, and trust, to present their latest findings and discuss their results and application in practice.
~coates~
Return To News Homepage