CSC News
September 29, 2017
Ford Selected to Attend NextProf Future Faculty Workshop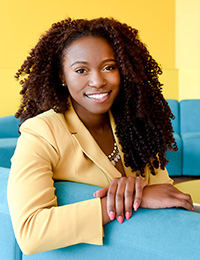 Congratulations to Denae Ford, a PhD student in the NC State Department of Computer Science, on being selected to participate in the 2017 NextProf Fall Engineering Workshop held September 26-29, 2017 at the University of Michigan.

The University of Michigan College of Engineering NextProf Future Faculty Workshop is designed for doctoral students in or beyond the third year of study and postdoctoral scholars who are interested in pursuing academic careers in engineering, who are committed to promoting diversity in higher education, and who are one to three years away from beginning a job search.
The participants attend sessions describing life as a faculty member at a research-intensive university, expectations of new faculty members, and resources available to the faculty to help with research and teaching. Participants attend presentations on research, teaching, service, proposal writing, the interviewing process, and faculty development with current faculty members at all ranks from across the nation; i.e., assistant professors to deans. During these in-depth discussions concerning their academic work and career interests, participants receive one-on-one advice about preparing for an academic career and may obtain feedback on what parts of their preparation are strong and what parts might need strengthening. This is an invaluable opportunity for participants to build a lasting national network of resources and future colleagues.
This is the fifth year that we have held NextProf workshops. Over 800 doctoral students have applied with only 250 outstanding students being accepted during the five years of workshops. All selected participants are fully funded to attend the workshop.
Ford is advised by Dr. Christopher Parnin, and is a member of the NC State Alt Code Research Group. Her research identifies and dismantles participation barriers of online socio-technical ecosystems. She earned both her BS and MS degrees from NC State. She is a GEM, NSF and Microsoft Research Fellow.
~coates~
Return To News Homepage