CSC News
May 19, 2023
Battestilli Recognized for Excellence in Teaching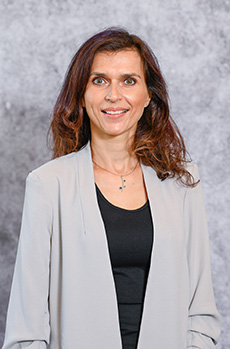 Congratulations to Dr. Lina Battestilli, associate teaching professor in the Computer Science Department at NC State, for being selected as a recipient of the Outstanding Teacher Award from the College of Engineering.
Battestilli completed her undergraduate education at Kettering University where she received her BS in Electrical Engineering with a minor in Applied Mathematics in 1999. She completed her education at NC State where she earned her master's degree in Computer Networking in 2002, and her PhD in Computer Science in 2005. Shortly after receiving her PhD, she was selected by the NC State Graduate School as the winner of the 2006 Nancy G. Pollock Dissertation Award for her outstanding research in computer science, making her one of the first graduate students from computer science to receive this award.
She worked in industry before beginning her career at NC State as a teaching assistant professor in 2012. She has been involved at NC State in a variety of other roles including serving as faculty adviser of Women in Computer Science (WICS), member of the Academic Committee of the Grace Hopper Celebration, member of the Diversity in Admissions and Matriculation committee within the CSC Department, panelist on Technology and Bias at Honors and Scholars Village, leader in College of Engineering (COE) high school summer camps, and a 2020 NC State Distance Education and Learning Technology Applications (DELTA) Faculty Fellow.
Battestilli has received many honors at NC State, including being nominated for the 2021 Equity for Women Award, and being recognized as the Computer Science Department's Carla Savage Award winner for being the "most Awesome Teaching Associate Professor" in April 2021. She was also recognized as the 2020-2021 recipient of the NC State Computer Science Department's "Person of Exceptional Performance" (PEP) Award for her dedication to her teaching and research, and her passion and commitment to establishing and maintaining a diverse computer science community at NC State.
"My goal is to create a welcoming and respectful learning environment for my students," Battestilli said. "Students may forget some of the things they learn in my courses, but they will remember how my course made them feel."
Her teaching philosophy is that the best way to learn is by doing. Battestilli's classes are full of hands-on projects and projects that have to do with larger societal impact.
"I also want my students to be able to relate to the topics and have fun while learning so I have also created projects around games such as Battleship, Mastermind, Connect Four, Adventure Games, etc.," she said. "I want my students to see the impact of computer science but also be able to personally relate to the topics and have fun while learning."
Junior Isaac Dunn met Battestilli early on in his college career, during his second semester of college in spring 2021, when he took Introduction to Computing.
"I can confidently say that Dr. Battestilli was the best professor I had during the pandemic because of the positive learning environment she created and maintained throughout the course," Dunn said. "She took great care in creating course webpages and using resources to
be both organized and easily accessible.
"During lectures, she would encourage students to ask and answer questions," he continued. "Additionally, she would use Zoom breakout rooms for students to solve coding examples together in small groups. This was the most engagement I had in a learning environment during the pandemic, and it had a very positive impact on many students."
The Outstanding Teacher Award recognizes excellence in teaching at all levels. Upon being selected as an Outstanding Teacher, recipients become members of the Academy of Outstanding Teachers for as long as they are NC State faculty.
Battestilli and other Outstanding Teacher Award recipients were honored at an awards luncheon and ceremony on April 21 at the Park Alumni Center. Recipients of the Board of Governor's Award for Excellence in Teaching, the Alumni Distinguished Undergraduate Professor Award, and the Gertrude Cox Award for Innovative Excellence in Teaching and Learning with Technology were also recognized.
For more information on Dr. Battestilli, click here.
~###~
Return To News Homepage