CSC News
February 26, 2021
Battestilli Recognized as a 2021 Equity for Women Award Nominee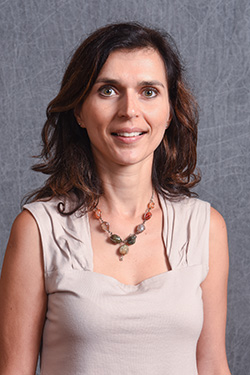 Dr. Tzvetelina ("Lina") Battestilli of the NC State Computer Science Department was recently nominated for the 2021 Equity for Women Awards at this year's Sisterhood Celebration hosted by the NC State Council on the Status of Women. She was nominated in recognition of her efforts in increasing women's representation and participation in technology and computer science, as well as for her involvement in the diversity efforts of the Computer Science Department.
Battestilli is a Teaching Associate Professor at the Computer Science Department at NC State. Her research interests include the innovation of computer science education, effective ways of teaching computer science to non-majors, increasing the diversity of computer science students, cloud networking, software defined networking, techniques, and uses of deep packet processing, advanced scheduling of network resources, control and management plane design.
According to the Nation Center for Women & Information Technology, women only hold 26% of professional computing occupations. Thus, Battestilli's work is guided by the mission of increasing female representation in the field of computer science and other technology fields. Currently, she serves as the faculty advisor for Women in Computer Science (WiCS). The mission of WiCS is to support, promote, and retain women in computer science by providing opportunities for personal and professional development, social interaction, and outreach. Additionally, she is a member of the Diversity in Admissions and Matriculation Committee for the Computer Science Department. This committee works to create more inclusive practices to increase the number of diverse students within the department.
Recently, Battestilli has been working on a project studying an intervention designed to improve the retention of women in computer science. She is the Co-PI of this National Science Foundation (NSF) -funded project, "Analysis of a Simple, Low-cost Intervention's Impact on Retention of Women in Computer Science". She also has a publication based on this work in the 2020 Research on Equity and Sustained Participation in Engineering, Computing, and Technology (RESPECT) conference.
The Sisterhood Dinner, hosted by the Council on the Status of Women and the Women's Center, "celebrates the contributions and accomplishments of NC State women". The theme for this year's 36th annual Sisterhood Dinner was "Normal Never Was" to acknowledge and celebrate the hard work and achievements amidst the difficulties of the past year.
Battistelli was one of the faculty nominees for the 2021 Equity for Women Award which recognizes "...outstanding leadership in establishing equity for women at NC State". Nominees were selected based on their demonstrated excellence in leadership, service, and scholarship. She was recognized at the virtual Sisterhood Dinner that took place on February 22, 2021. Battistelli said it was an enjoyable time and "...it really made me proud to be part of NCSU and to see everyone's efforts to bring equity for women."
A complete list of nominees and winners can be found here.
~snyder~
Return To News Homepage