CSC News
April 20, 2021
April 2021 Carla Savage Award Winners Announced
Congratulations to Ms. ToniAnn Marini and Dr. Barbara Jasmine Adams on being named the winners of "The Carla Savage Award" in the Administrative Staff category. Congratulations also to Dr. Lina Battestilli, for winning the award in the Teaching Professor category.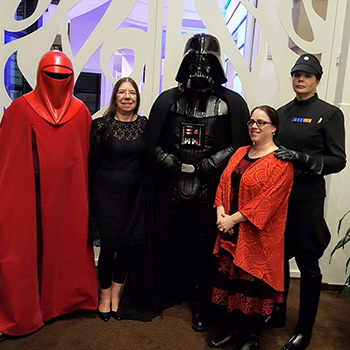 ToniAnn Marini is the Assistant Director of Undergraduate Advising and a Lecturer. Her job is to help students maneuver some of the most challenging and advising aspects of the Computer Science Department. In her role, she is the magician who knows all the tricks about how to pull rabbits out of hats, and how to pull answers out of students. Through it all, she somehow manages to remain (outwardly) calm and patient through each advising and scheduling season. Never scared or panicked about upcoming changes, she knows exactly how to navigate seemingly every situation that is thrown her way.
Marini is a two-time graduate of NC State (BS, M.Ed). She started working for the CSC Department in 2005 as an undergraduate lab instructor and then became the Undergraduate Lab Coordinator and a Lecturer in 2010. She has been working in advising since 2013, in scheduling since 2018, and taught E115 for a record 10 years. She is a Faculty Advisor for Engineering Happiness and AcePack, is on two University advising committees (Assessment and Professional Development) and is a GLBT Advocate. She co-advises ~1300 major and prospective students and ~ 200 minor students with Dr. B. Jasmine Adams and Dr. Gary Weinberg. She is eternally grateful for the mentoring she receives from Dana Lasher and Jasmine Adams as well as the staff support from Zelda Tuazama and Chelsea Nowak.
Dr. Barbara Jasmine Adams, who earned her PhD in Psychology from the City University of New York in 1996, is the Director of Undergraduate Advising and a Lecturer. She joined the CSC Department in 2004, and is legendary in the Department for being able to read minds. Somehow she knows how to get things done, and she knows who to call when there's trouble in the neighborhood. Always listening, and always giving top-notch advice, Adams is the first line of defense, and every instructor (and the whole department) owes her a huge debt of gratitude.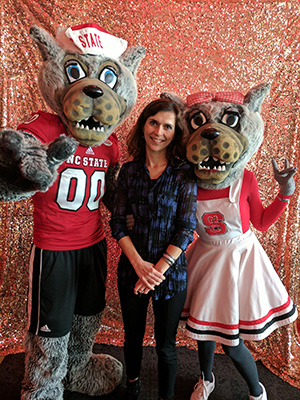 Dr. Lina Battestilli is being recognized as the most Awesome Teaching Associate Professor. She dedicates herself to teaching, research, and the cause of increasing women's representation and participation in technology and computer science. She is well known for her involvement in the diversity efforts of the Computer Science Department. Recently, she was recognized at the 2021 Sisterhood Dinner as a faculty nominee for the 2021 Equity for Women Award which recognizes "...outstanding leadership in establishing equity for women at NC State". Her NSF-funded research, "Analysis of a Simple, Low-cost Intervention's Impact on Retention of Women in Computer Science", studies intervention designed to improve the retention of women in computer science.
In addition to her teaching and research responsibilities, her activities just in the last year include: faculty adviser of WICS, program committee of ACM's SIGCSE'21, Academic Committee of the Grace Hopper Celebration, Diversity in Admissions and Matriculation committee in the department, panelist on Technology and Bias at Honors and Scholars Village, COE summer camps for high school students, organizer of the annual Diamondhacks hackathon, 2020 NC State DELTA Faculty Fellow.
Battestilli received both her PhD (2005) in Computer Science and MS (2002) in Networking from NC State where she was advised by Dr. Harry Perros. She joined the faculty at NC State in 2012. Prior to that she worked in industry for seven years, most notably at IBM Research where she worked on next generation networking projects. She teaches Intro to Computing, Networking electives, and she is part of the Senior Design Center, which coordinates the undergraduate capstone course. Her research interests are in innovation of Computer Science Education, effective ways of teaching Computer Science to non-majors, and increasing the diversity of Computer Science students. She is also interested in Cloud Networking, Software Defined Networking, techniques and uses of Deep Packet Processing, advance scheduling of network resources, control and management plane design.
A new intra-departmental initiative, The Carla Savage Awards were created by representatives in the Computer Science Department to recognize outstanding achievement and special people within the department, in the spirit of the incomparable department icon Dr. Carla Savage.
Each month nominations for The Carla Savage Awards will focus on one of the following groups: PhD Students, Administrative Staff, Research Professors, Teaching Professors, Assistant Professors, Associate Professors, and Professors. The Savage Awards committee is made up of representatives from the faculty, staff and graduate students. The names of nominators for the awards are kept private, but the nomination text will be public so voters can access this information when voting. Voting is open to everyone in the NC State Computer Science Department. Two awards will be given each month, with a maximum of 14 winners (one person cannot win more than once every six months). No awards will be given in January, June, July, August or December.
For a complete list of winners, please click here.
~coates~
Return To News Homepage