Impact of Your Gifts
The College of Engineering's Department of Computer Science at NC State appreciates the generous support of those who have established and contributed to endowments or through other gifting options over the years.
Endowments
An endowment creates long-term financial stability, allowing the department to be less dependent on more unpredictable sources of revenue, such as annual research sponsorship and state government aid. While the recently concluded Campaign for NC State Students greatly increased the endowed funds for scholarships and fellowships available to the college, the college and the computer science department continue to lag behind peer institutions in terms of endowment support.
An endowment is created through the establishment of a permanent fund that is invested and managed. A portion of the annual income generated (currently 4%) is used to carry out the donor's designated purpose. Income earned in excess of the annual amount spent is added back into the endowment so that it continues to grow and maintain its purchasing power for future generations.
Endowment gifts provide many opportunities to merge our donors' interests with the needs and objectives of the computer science department. In order to guarantee that the income from an endowment will be sufficient to achieve the donor's goals, minimum support levels have been established. Following are just a few of the categories and minimum support levels for endowments.
Endowed Student Support
Endowed Faculty Support
Endowed Facilities and Equipment Support
Endowed General Program Support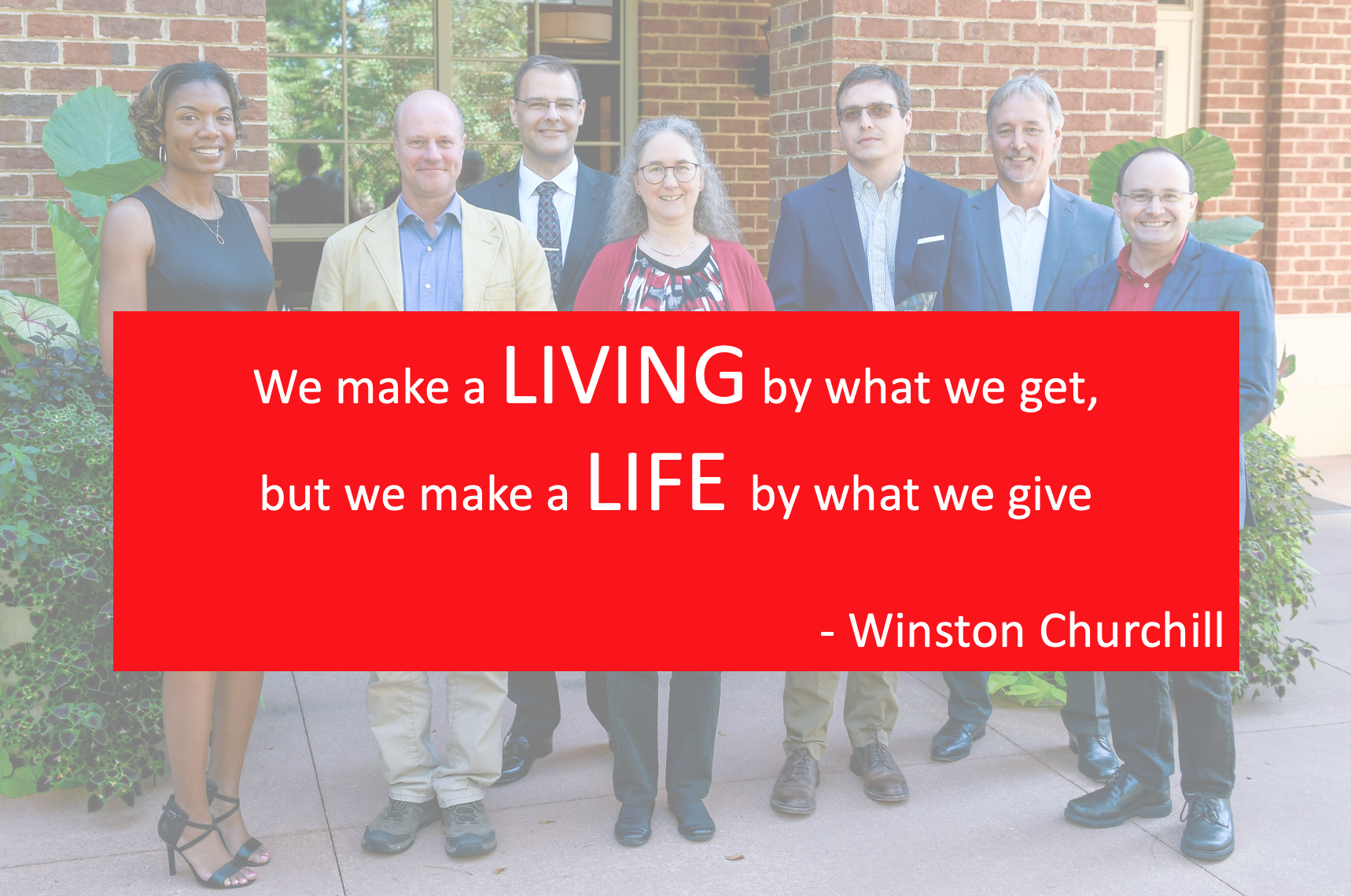 Endowed Student Support
In-state tuition and fees for full-time undergraduates in 2021-2022 totals $9,100, while out-of-state student rates total almost $30,000. As tuition rates continue to rise, endowed scholarship support becomes more critical to our ability to attract and retain a diverse and highly gifted student population regardless of financial need.
The NC State Engineering Foundation currently manages more than $2.03M in endowed scholarship funds exclusively for students enrolled in Computer Science at NC State. These funds generate about $81,000 annually, which is used to award more about 25 scholarships averaging $3,255 each.
There are currently more than 1,300 undergraduates enrolled in Computer Science meaning fewer than 2% of students receive scholarship awards solely from department endowments. Our students also benefit greatly from other endowments across campus including prestigious scholarships such as the Park, Goodnight, and Ben Franklin Scholarships. Considering all sources, traditionally fewer than 14% of all College of Engineering students receive scholarship assistance of any kind.
Minimum Required Endowment Levels:
| | |
| --- | --- |
| Endowed Scholarships | $50,000 |
| Graduate Fellowships | $500,000 |
| Graduate Fellowship Fund | $150,000 |
| Graduate Award Fund | $50,000 |
Current Endowed Computer Science Scholarships
View full list here.
Endowed Faculty Support
In any given year, the department of computer science hires 2-3 new faculty due to retirement, attrition and new positions in emerging areas. The availability of faculty support, over and above that which is offered through the state budget, helps tremendously in attracting and retaining the very best talent.
Minimum Required Endowment Levels:
| | |
| --- | --- |
| Department Head | $2,000,000 |
| Faculty Chair | $2,500,000 |
| Named Distinguished Professorship | $1,000,000 |
| Faculty Award | $100,000 |
Return to Top
Endowed Facilities Support
The construction of our new state-of-the-art teaching and research facility on Centennial Campus offers a host of naming rights opportunities for both corporations and individuals ranging from offices, labs, classrooms, conference rooms, and common areas to the entire building. Consistent with university guidelines, all named spaces require a minimum donation of at least = the original construction cost of that space.
The primary goal of the naming rights campaign is to stregthen and grow our endowment base. Per University guidelines, 50% of a qualifying donation must be allocated toward an unrestricted endowment. The remainder can be added to an existing cash fund or endowment, or it can be used to create a new endowment in alignment with the donor's interests and the department's most critical needs, such as professorships, graduate fellowships, etc.
Return to Top
Endowed General Program Support
It is impossible to foresee every need and opportunity. For this reason many donors choose to establish endowed funds to generate annual income that is unrestricted in its use. This gives the dean of engineering maximum flexibility in allocating the college's resources to the areas of greatest need and opportunity. Gifts for endowed general support are recognized with special naming opportunities, examples of which appear below.
| | |
| --- | --- |
| Dean/Director Initiative Fund | $1,000,000 |
| Provost Initiative Fund | $1,500,000 |
| Chancellor Initiative Fund | $2,000,000 |
| Lecture Series | $100,000 |
| Library Funds | $50,000 |
| All Others | $50,000 |
If you have any questions or need additional information, please contact:
Sara Seltzer
Director of Development
Department of Computer Science
College of Engineering
1222-D EBII - Campus Box 8206
North Carolina State University
Raleigh, NC 27695-8206
919-515-3730
skseltze@ncsu.edu
Ken Tate
Director of Engagement & External Relations
Department of Computer Science
College of Engineering
1204-F EBII - Campus Box 8206
North Carolina State University
Raleigh, NC 27695-8206
919-513-4292
kmtate2@ncsu.edu